There's a messy forecast on the way for the end of the week with a well-pronounced front moving across the region.
This will have major impacts on the forecast and while models agree about the arrival of the front there are some big disagreements in how long it stays.
Since this could impact everyone in south Louisiana I wanted to go through and discuss some of the trickier parts of the forecast and what to look for this week.
There's good agreement with the major global models that the front will swing through Thursday afternoon and sparking widespread heavy showers.
Where the differences exist is how this front behaves once it passes through Acadiana and how long it could keep rain in the forecast.
The GFS model is of the belief that the front will move through Thursday and clear the area giving us a break in the rain on Friday, while the EURO model the front stalling and becoming stationary.
This scenario would keep showers going through Friday and likely the weekend as well, right now tend to lean a little to the EURO scenario as it has been that way since last week.
Regardless which model pans out the main concern is going to be flooding, especially if you add Friday in as an additional day of rainfall.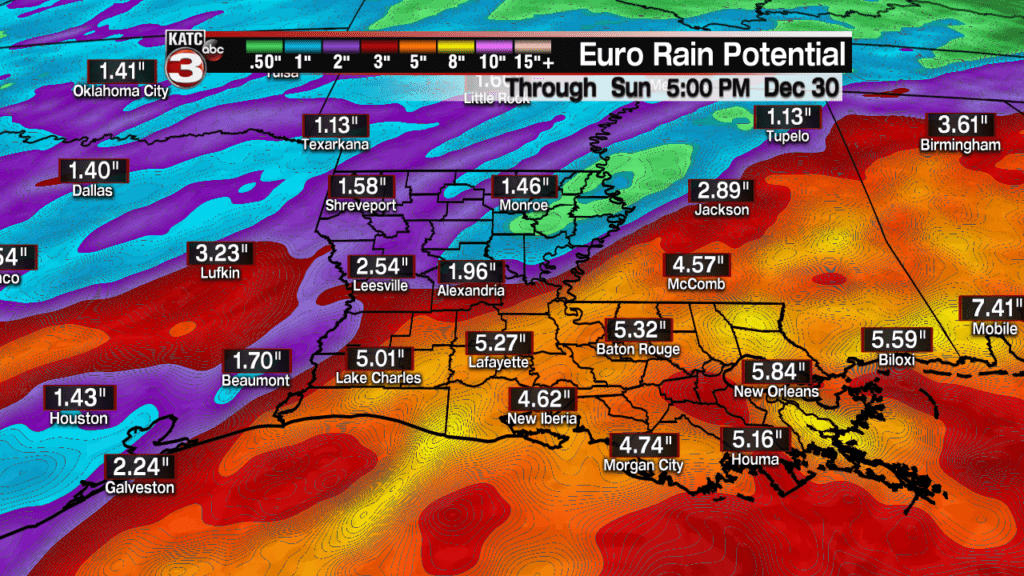 Precipitation totals for Thursday seem to be hovering around 2-4″ of rain with the GFS adding little else through the weekend with the EURO producing an additional 2-3″ of rain through Sunday.
Severe weather may be an issue to consider as well, although it's still a little too early to have a sense of what kind (if any) severe weather we could see.
This will be a changing forecast through the week so make sure even with all the hustle and bustle of the holiday to keep an eye on it.