Acadiana can expect a couple of cloudy, dreary days with scattered showers a good bet Wednesday into Thursday.
A weak Surface low pressure system accompanied by an upper level low will traverse the area just to the south of Louisiana Wednesday engendering scattered showers with a few embedded thunderstorms possible.
Latest FutureCast:
Activity is expected to be scattered in nature throughout the day, with best rain chances centered from mid-late morning through the afternoon hours, and diminishing into the evening.
Rain totals by most models are in the 1/2 to 1″ range Wednesday.
No flooding nor severe weather concerns are anticipated whatsoever.
A secondary, and stronger upper low will drop southeastward behind Wednesday's system insuring cloudy, breezy and cooler weather accompanied by scattered showers and/or periods of misty drizzles Thursday.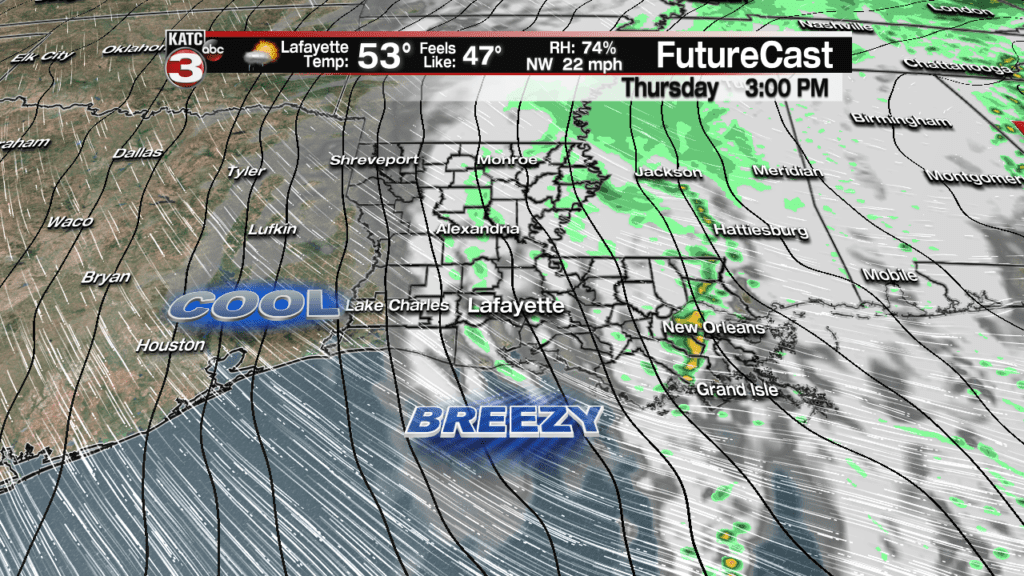 Another 1/4 to 1/3″ of an inch is expected Thursday.
Rain chances Wednesday, for the entire day will be in the 80-90% range, while chances of enough rain to keep the ground wet Thursday will be in the 60-70% range.
After an initially mild period Wednesday, expect breezy and colder conditions to move in Thursday as temperatures drop and stay into the low-mid 50s at best.
Skies will finally clear Friday with sunny and cool conditions anticipated. After a wind-chilly start in the lower 40s, high temperatures Friday will be in the mid-upper 50s.
The coldest period for the next 10 days will arrive Friday night into Saturday morning with readings dropping into the mid-upper 30s…there could be the risk of some patchy frost, especially for the northern-most Acadiana parishes, Saturday morning.
High pressure shifts quickly east of the area Saturday afternoon allowing the sunny skies that are anticipated to warm us back into the mid-60s.
Mid-high level clouds will return Sunday as southerly surface winds become established allowing for temperatures to flirt with 70 degrees during the afternoon.
There might be a slight chance of a passing isolated shower Sunday, at 20% or less, with this partly to mostly cloudy and mild pattern accompanied by slight rain chances through Christmas Eve and Day.
Temperatures will stay locked in the upper 60s to lower 70s early next week including Christmas with readings beginning to push the mid-70s along with better rain chances developing Wednesday into Thursday.
Eventually a return to more winter-like temperatures could be in the forecast by the following Friday and weekend.