After a chilly start Monday morning in the mid-40s, Acadiana will see a mix of some sun and high clouds along with seasonable temperatures topping out in the mid-60s.
Weak high pressure will stay in control for Tuesday, accompanied by a similar mix of sun and high clouds.
Highs Tuesday will again reach into the mid-60s.
High clouds will thicken as the day wears on Tuesday, ahead of a system that will be rolling out of the Southern Rockies into the Plains States.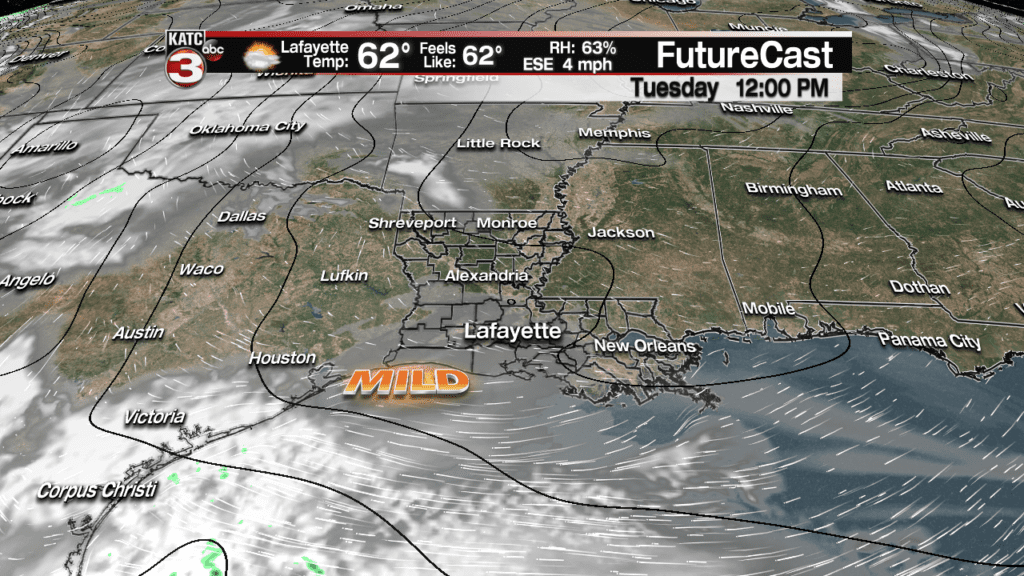 This will induce an area of surface low pressure to develop across Louisiana allowing for scattered showers and perhaps a few embedded thunderstorms Wednesday.
No severe weather nor heavy rainfall is expected Wednesday.
Thereafter, mostly cloudy, breezy and temporarily chilly weather should move into the region Thursday through Satyurday morning.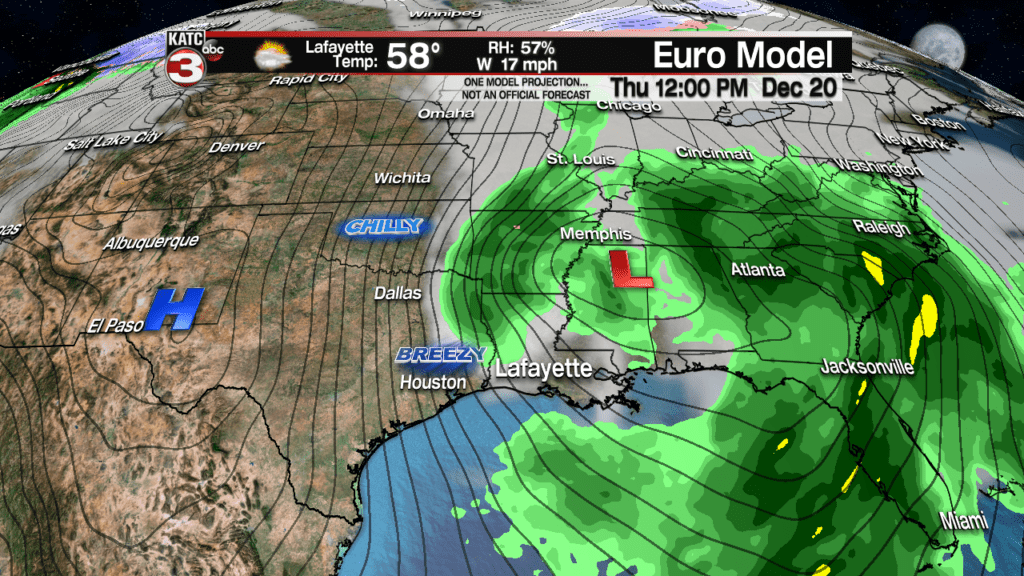 Friday will be a nice, sunny and cool day with highs dropping into the 50s.
Readings Friday night into Saturday morning could drop into the mid-upper 30s, but expect milder conditions overall for the rest of the weekend before Christmas.
Next weekend at this time looks to be partly to at times mostly cloudy with seasonably mild temperatures reaching the mid-60s Saturday, and perhaps lower 70s Sunday.
The weather closer to Christmas looks to be rather mild with mostly cloudy skies, and relatively slight rain chances at best.
Highs Christmas Eve and Day will likely range from the upper 60s to lower 70s respectively.
Sadly there won't be a White Christmas in Acadiana, but portions of the West, Northern Plains and the Northeast U.S. may wake up Christmas morning to fresh snow, per the European Model today.
Climate Notes: As we approach the winter solstice Friday at 4:21 pm CST, the shortest days of the year have arrived to Acadiana.
Daylight length will stay at 10 hours and 12 minutes through the 27th of December…then the daylight hours will start to get roughly 30 seconds per day longer into January.