A "stacked" upper low drifting eastward through Louisiana will keep cloudy, breezy and chilly conditions in Acadiana through Saturday night, but we should see some sunshine and milder temperatures Sunday.
In the near term, expect a few light showers and/or sprinkles, especially for western and northern portions of Acadiana through Friday evening, but drier air will gradually filter into the region through daybreak Saturday.
Temperatures will drop into the mid-40s overnight, with wind chills closer to the upper 30s to lower 40s in spots.
Winds will be SW/W near a solid 10-15 mph overnight.
FutureCast Winds:
Clouds will stay locked in across the area Saturday with perhaps a few breaks here and there, but gray skies will be the norm for the day.
It will stay on the breezy side with west to northwest winds near 10-15 mph, but should decrease by day's end.
Highs Saturday will be in the mid to upper 50s.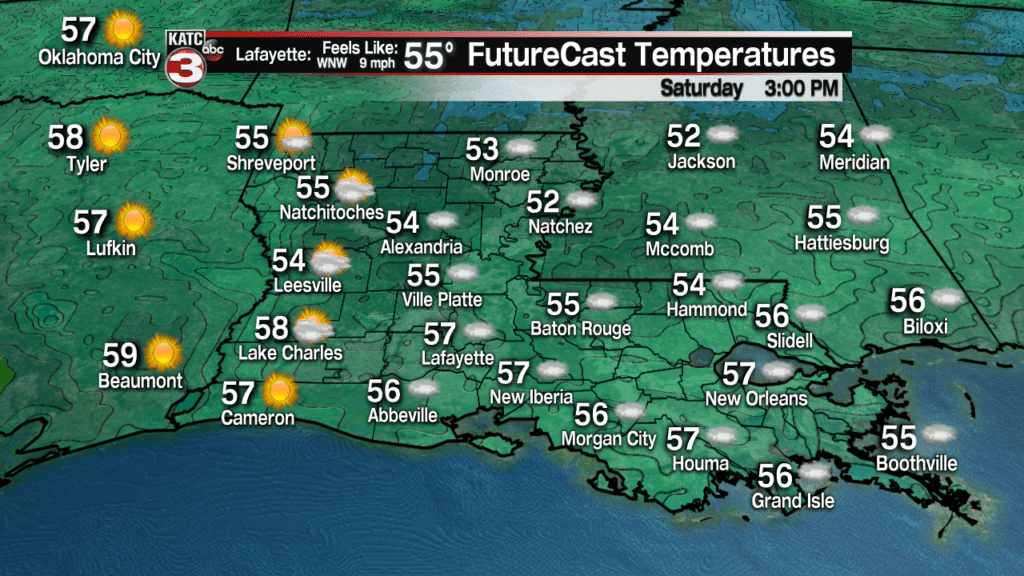 Temperatures will be a little chillier as skies try to clear from west to east Saturday night, with lows in the low to mid 40s, but at least the winds will be diminishing.
Finally some sunshine is in the forecast Sunday, but as soon as the low to mid level stratiform clouds move out, some high clouds will be moving back in.
Highs Sunday should reach into the low to mid 60s, but could push upper 60s in spots if we see more sun than anticipated.
Next week's weather pattern will start off with plenty of high clouds and nearly seasonable temperatures for Monday and Tuesday.
A quick-moving trough of low pressure and frontal boundary should induce some shower activity Wednesday, but models are split on the rain chances…for now we'll go with a 40-50% chance of rain.
Wednesday's weather system won't pose any kind of significant weather threats and rainfall totals will likely be light.
Breezy and cooler weather with a return of more complete sunshine should finish the week, while the weekend before Christmas continues with the sunshine, and we should also see milder readings pushing the 70 degree mark.
And while Christmas is technically beyond the 10 Day Forecast, it does look to stay rather seasonable…no indications on rain chances just yet however.
And statistically speaking, the chances of a white Christmas in Acadiana is roughly 1 in 2000, and it appears that this year, the odds won't be that good!