A Flash Flood Watch is in effect for most of Louisiana Saturday including all of Acadiana, primarily for the morning into the early afternoon hours.
A potent storm system will move from Eastern Texas into Southern Louisiana Saturday and will likely bring with it locally heavy rains, the threat of some flooding, and a marginal risk of a few severe storms primarily along and south of the I-10 corridor for all of Southern Louisiana.
Look for rains to develop overnight Friday through Saturday morning with the risk of heavier storms advancing into Southwest Louisiana by daybreak.
The heaviest rains and storms will march from the west to east primarily during the morning hours Saturday, with activity tapering in the afternoon to occasional periods of drizzle and/or mist into Saturday evening, while temperatures chill from an early day high of the mid-60s into the lower 50s Saturday evening.
See the latest Radar, Predictive Radar and FutureCast here.
Although models have been backing off on the bigger rain totals for Louisiana and Acadiana as compared with yesterday's data, the National Weather Service is maintaining the Flash Flood Watch for all of Acadiana for the possibility of widespread amounts of 1-3″, which would not be overly problematic, but there is a slight chance of a few isolated areas seeing up to 3-5″.
Any areas that would receive 3-5″ will likely see some localized run-off issues including street flooding, ponding on roadways and some accumulations in low lying areas…the saving grace is that this storm system will be rather progressive, moving along at a decent clip, thereby limiting and major flood potential.
See latest FutureCast Model below:
In addition to the locally heavy rainfall threat, the Storm Prediction Center (SPC) has portions of Acadiana and Southern Louisiana hatched in "marginal risk" of severe storms, or a level 1 out of 5, primarily along and south of the I-10 corridor in Acadiana.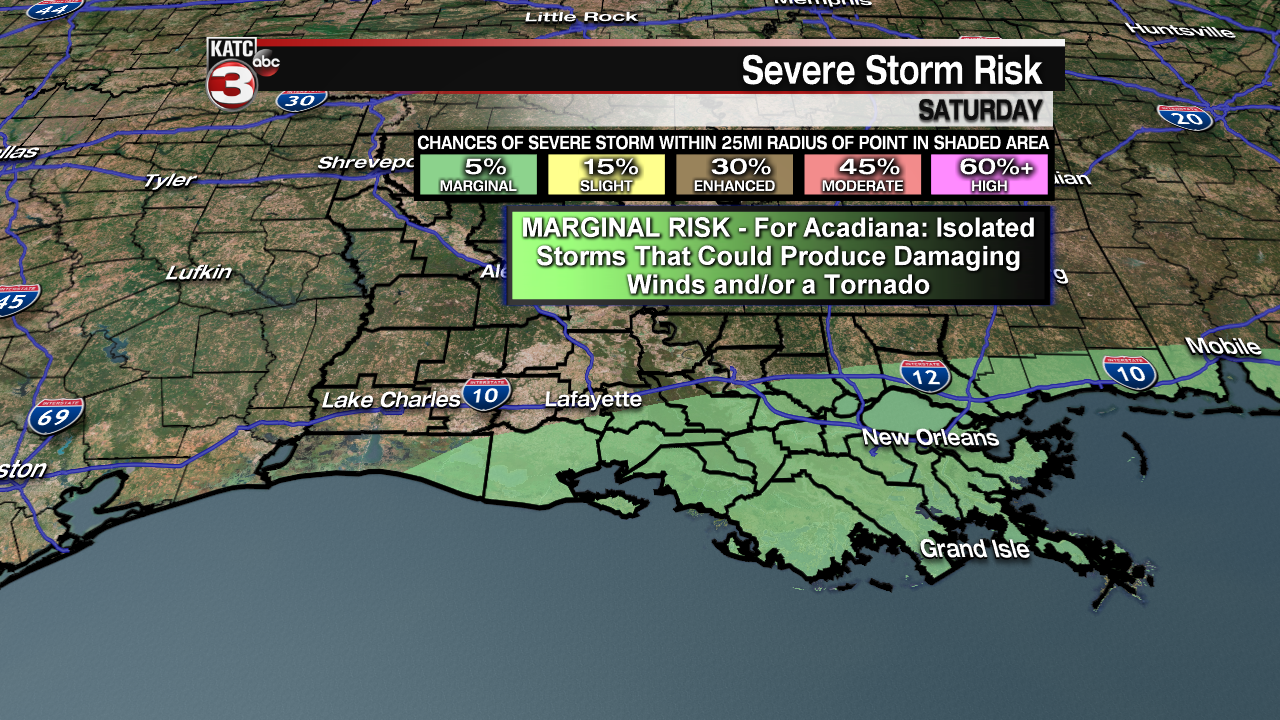 .
Examining the "helicity" or turning tendency that would produce storm spin, the GFS shows that marginal risk of severe storms primarily across the coastal Acadiana parishes during the morning and into Southeast Louisiana into mIdday hours.
The main threat of any isolated severe storms would be for a few cells that could produce damaging winds or an isolated tornado.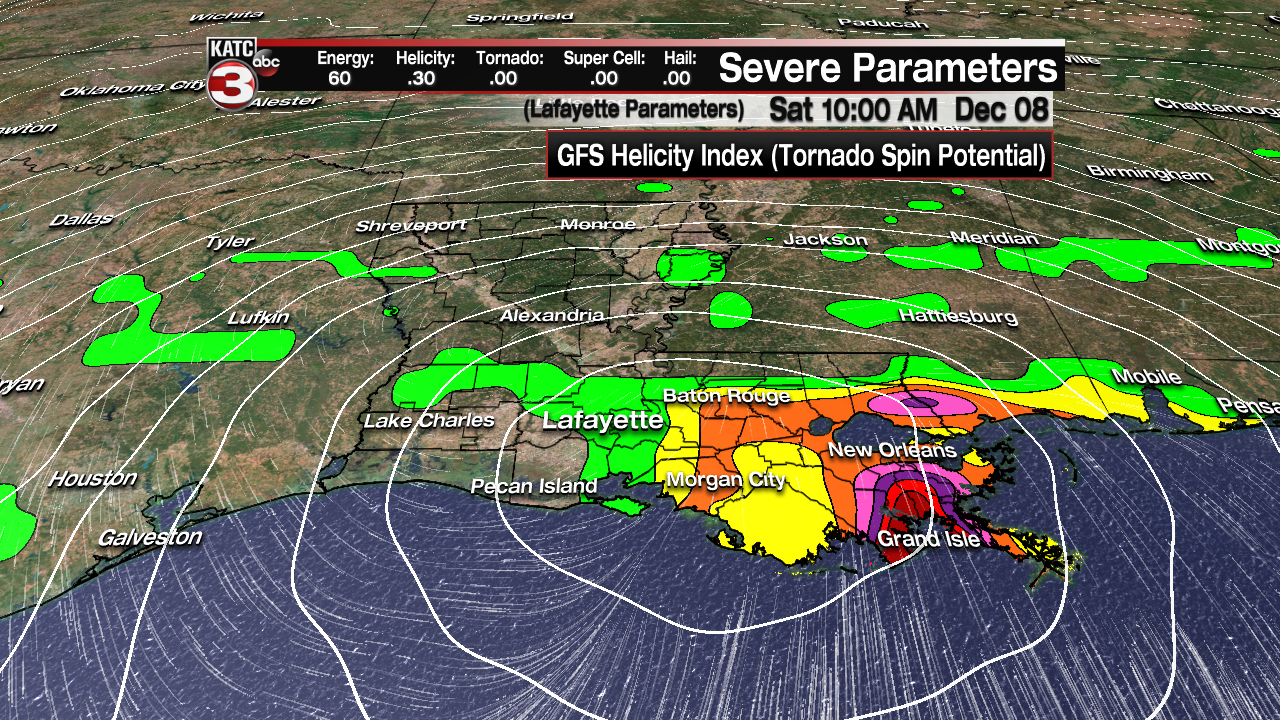 It should be noted that the European model shows very little in the way of a severe threat for the area.
But here's the latest Predictive Radar (HRRR) Model valid at 9am below suggesting the risk of rotating storms right near the coast Saturday morning:
Cloudy, breezy and cooler conditions will follow the storm system Saturday night into Sunday (with some patchy drizzle/mist a good bet Saturday evening/night) with temperatures dropping and staying the the 40s through the entire day Sunday. There will be a wind chill factor Sunday for sure!
Skies clear out for Acadiana with chilly conditions Monday into Tuesday and a light freeze or frost possible by Tuesday morning.
Next chance of scattered showers and storms should arrive our Thursday or Thursday night.