Acadiana can expect sunshine and seasonably chilly temperatures over the next couple of days before clouds return Thursday and rain becomes likely late Friday into early Saturday.
In the near term, high pressure will continue to build into the area from the north ushering temperatures down into the upper 30s to lower 40s across the area by Tuesday morning.
Latest Hour by Hour Temperatures Forecasts:
Breezy north winds will yield Tuesday morning wind chills as low as the mid-30s.
Lots of sunshine is expected for Tuesday with temperatures topping out in the mid-upper 50s.
Chillier conditions will be likely Tuesday night into Wednesday morning with temperatures dropping into the low-mid 30s Across the northern Acadiana parishes to the mid-upper 30s along and south of the I-10 corridor.
Frost will be a good bet in spots Wednesday, and perhaps, Thursday mornings before a moderating temperature trend sets in before our next storm system.
Mostly sunny skies with highs in the mid-upper 50s are expected Wednesday with some high clouds beginning to invade from the west by late in the day.
Acadiana's next storm system, currently off of the Pacific Coast, will be taking shape across the Southern Rockies Thursday inducing high and mid-level clouds and a return of east to southeast winds across the area.
Temperatures Thursday should get back into the milder mid-60s.
Surface low pressure is expected develop in South Texas/Northern Mexico by late Friday and then travel northeastward toward the Louisiana Coast by Saturday morning.
This should bring high rain chances to the area Friday night into early Saturday along with the chance of embedded thunder and a fairly good chance of soaking rains.
While it's too early to know as to whether there may be any severe weather threat, this next weather system at the very least, appears to be a much wetter system.
Both the European and GFS Models are indicating a 2-4″ rainfall across the region…so a solid soaking across the areas appears likely, and hopefully due to the progressive nature of the low pressure system, any flood potential should be limited.
There could be however, a marginal risk for excessive rainfall…so stay tuned for latest rain projections as the week wears on.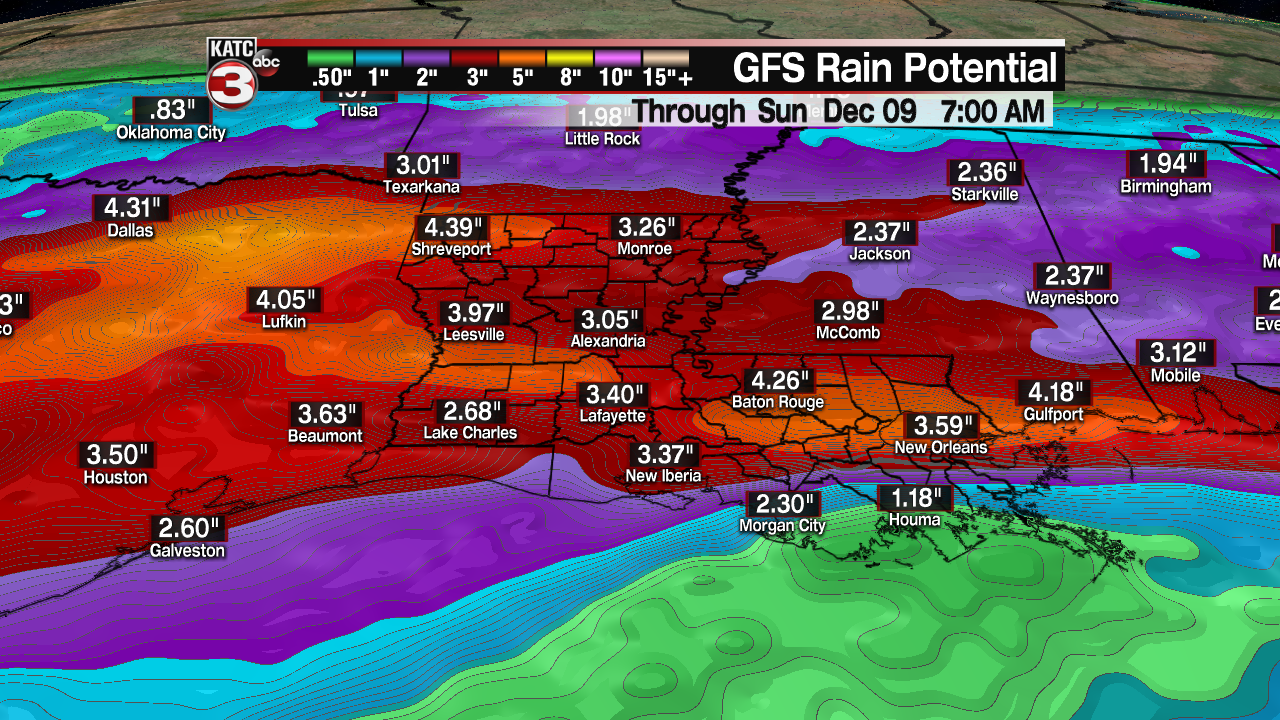 For now, it would be fair to estimate that 2-4″ will be possible with this storm system.
Based on today's computer guidance, the threat of the heaviest rains will end Saturday afternoon, with cooler conditions and lingering clouds likely Sunday.
Acadiana should see sunshine and chilly conditions for the early to mid-art of next week before the next chance of some showers returns by next Thursday.