As clouds continue to stream over Acadiana tonight they will act as a blanket trapping the warm air at the surface meaning lows will only dip into the mid 50s, which is 20° warmer then they were last night.
Here is a look at the latest hour-by-hour temperatures:
With high pressure to our East winds will be out of the south again warming temperatures into the mid 70s Thursday afternoon.
But with this southerly flow more humid air will start to slide over Acadiana allowing for a few isolated showers to pop-up during the afternoon, however rain chances will only be around 30-40%.
Here is a look at the latest Predictive Radar:
Friday rain chances go up to about 60-70% as a tough heads our way producing scattered showers and thunderstorms.
A couple of these storms could be on the strong to severe side as the Storm Prediction Center has most of Acadiana under a marginal risk(5%) for damaging winds and possibly a brief spin-up tornado.
The good news is the main severe threat looks to stay to our north over Arkansas where there will be better forcing for severe storms and tornadoes to develop.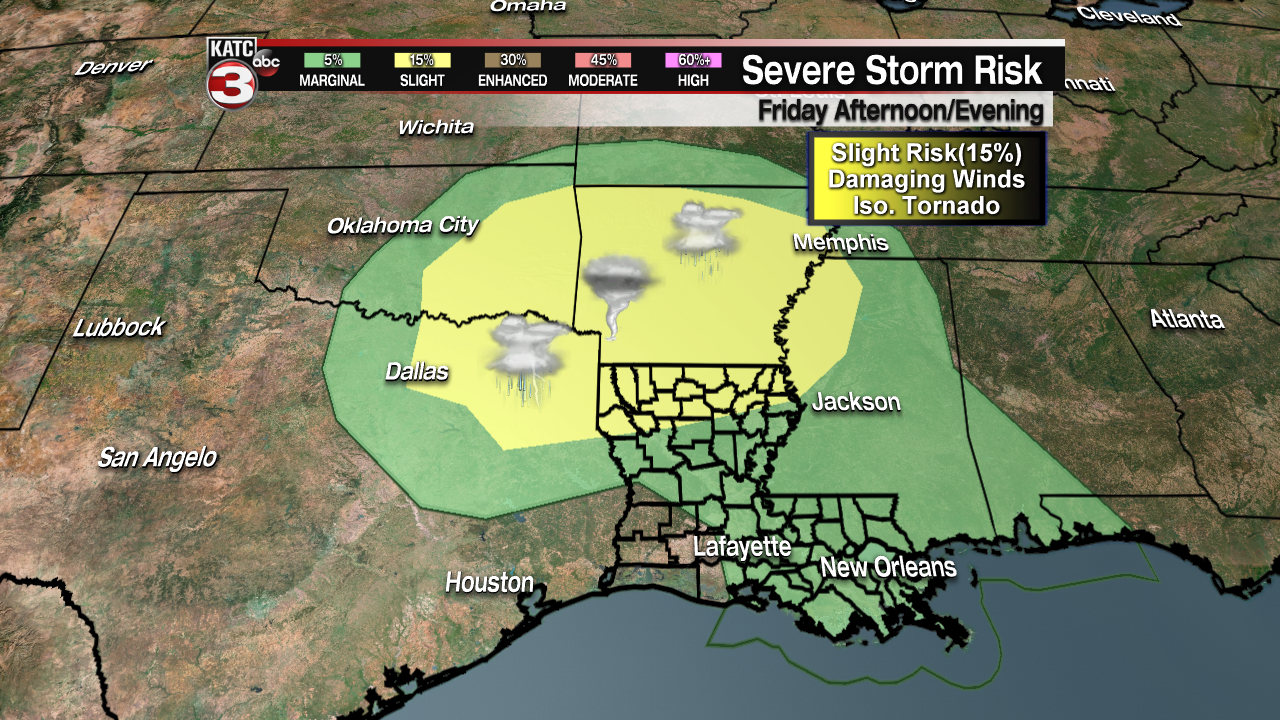 A few light showers could linger into Saturday morning but skies should clear during the afternoon and with westerly winds pushing dry air into Acadiana we will have a good chance to see highs in the lower 80s.
Sunday will be another warm day with temperatures in the mid to upper 70s but clouds will be increasing throughout the day in advance of our next cold front.
The front looks to arrive Monday morning giving us a slight chance for a few scattered showers but more importantly another shot of cool air will dive down into Acadiana behind the front.
Thus, temperatures will fall Monday afternoon and highs Tuesday and Wednesday will only be in the upper 50s to lower 60s.