After a chilly start in the mid-upper 30s Wednesday morning, warmer readings are on tap for Acadiana for the afternoon, and very likely, the rest of the week into the weekend.
In the near term, expect a gradual increase in high cloud cover Wednesday as breezy southeasterly winds during the afternoon kick-in and usher in milder temperatures in the mid-60s.
Even warmer conditions are anticipated Thursday under mostly cloudy skies along with the chance of scattered, passing showers into the afternoon. Rain chances Thursday should be in the 30-40% range.
The weather pattern gets more interesting for Acadiana Friday as a surface trough of low pressure approaches from a deep low that will be traversing the high plains.
Rain chances will be in the 70% or better range Friday along with for now, a marginal risk of a few severe storms.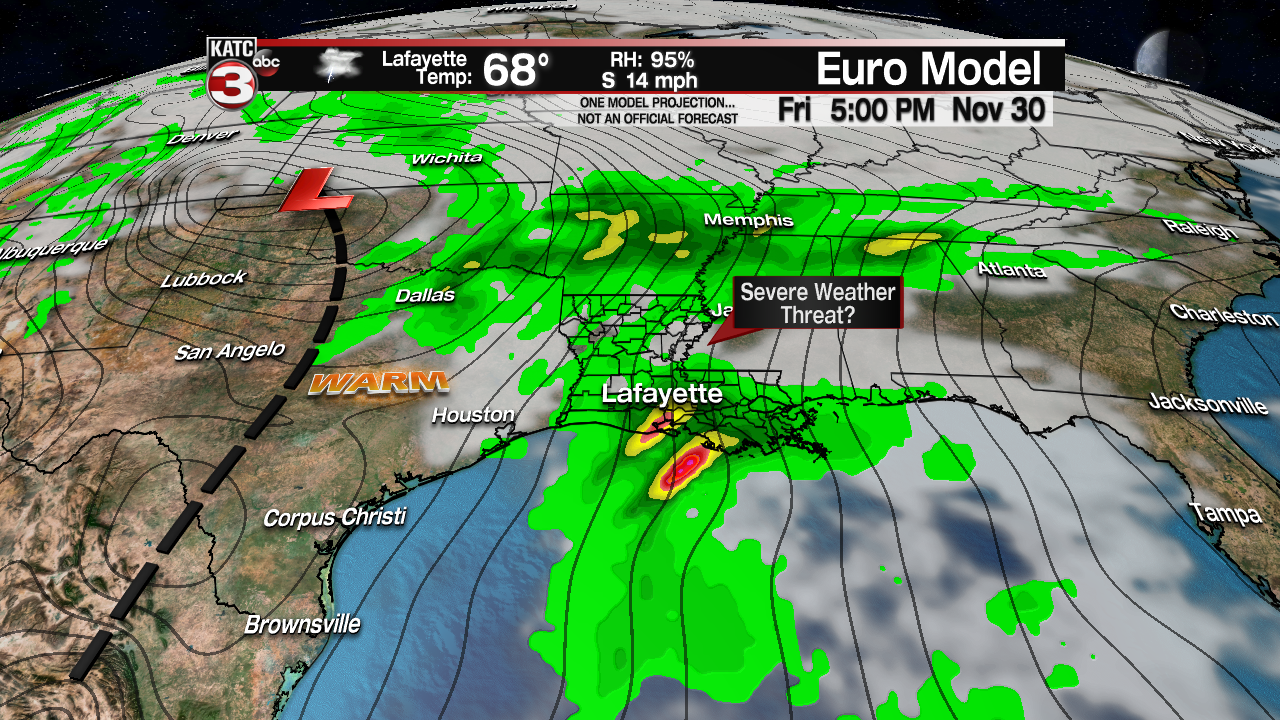 The Storm Prediction Center has areas north of Acadiana hatched in the a "slight risk" of severe storms where dynamics will most likely be strongest. Stay tuned as things could change as we get closer to Friday.
In addition, although not as wet as yesterday's model runs, a couple of inches will also be possible Friday.
Showers and storms could continue into Friday evening/night but they should taper to a few showers by Saturday morning.
Thereafter, it does appear that we will see a unseasonably warm weekend with some sunshine possible Saturday afternoon and mostly sunny skies anticipated for Sunday.
Temperatures this weekend could top out in the upper 70s to lower 80s before cooler air returns to the area next week.
Latest Long Range Model Guidance: