It will not feel much like November across Acadiana over the next few days, but that should change later this week.
In the near term, a cool front, with much more active and potentially severe storms well to our north, will try to push toward the area by Tuesday morning but the frontal system will run out of gas here.
Latest Predictive Radar:
This means warm and humid conditions will continue along with the chance of a few passing showers and/or a thunderstorm.
While no severe weather is anticipated locally, that will not be so for the northern part of our state overnight where a tornado watch was posted through 11pm Monday.
A few rotating storms and tornado WARNINGS were already posted for parts of Northwest Louisiana as of late Monday afternoon.
Tuesday could start of once again with some fog, but it shouldn't be a s thick as it was Monday morning. Temperatures will be near the lower 70s Tuesday morning.
FutureCast Fog Conditions and Forecast:
After plenty of early morning clouds, once again look for a few intervals of sunshine Tuesday helping to pump our temperatures up into the low to mid-80s.
A few passing showers and/or a thunderstorm will be possible Tuesday but rain chances will stay in the tolerable 30% range through Tuesday night.
Tuesday's front will be advancing back northward by Tuesday afternoon with perhaps another push southward of the same front Wednesday, probably with not much more success.
Latest FutureCast:
Rain chances could be a little higher Wednesday (perhaps in the 40-60% range). After a morning low in the lower 70s, look for highs once again to reach the lower 80s Wednesday afternoon in spite of mostly cloudy skies.
The weather pattern won't change much during the day Thursday with the chance of scattered showers and perhaps a thunderstorm remaining in the forecast with highs in the mid-70s.
The first of two cool front later this week will arrive Thursday night insuring breezy and cool conditions Friday, but will stay cloudy and could be rather wet with periods of rain following the front Friday.
With clouds and rain, temperatures Friday may have a hard time getting out of the 50s but should be near the lower 60s for a high.
A secondary cool front should arrive Friday night insuring a cool weekend.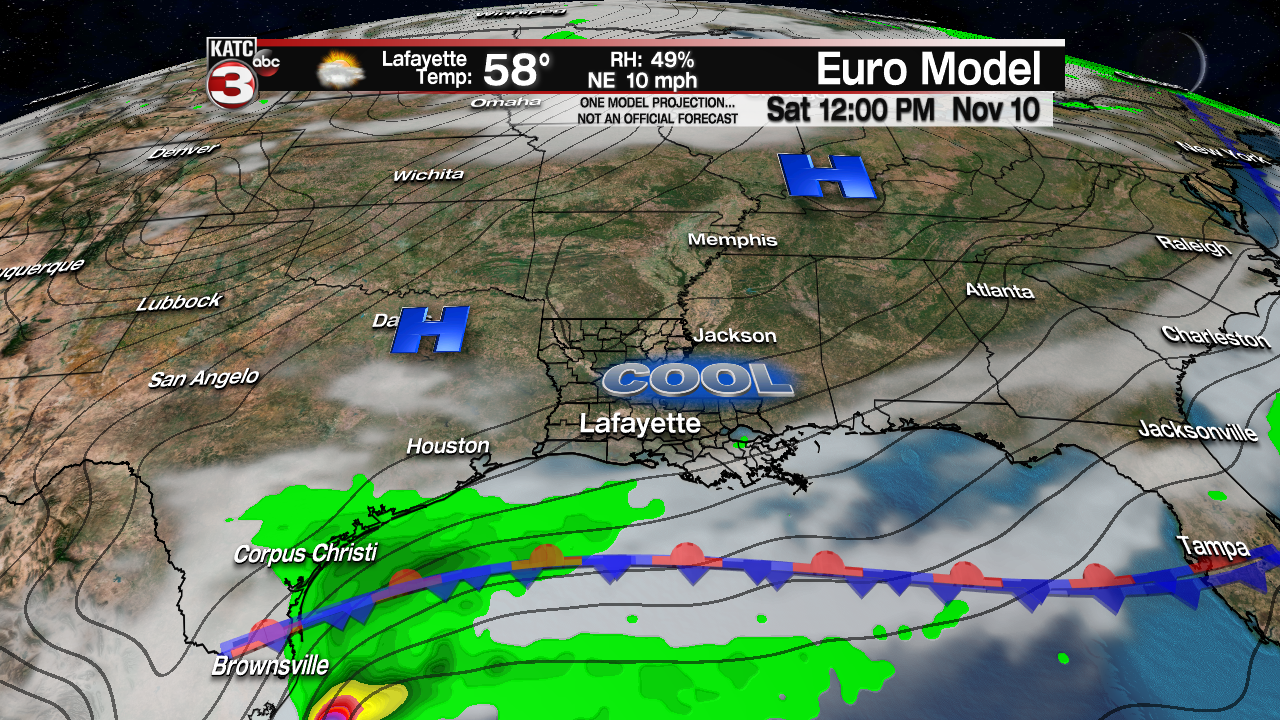 Models remain at odds on whether it will clear out completely or the front in the Gulf produces overrunning rain and our cloud cover…for now a compromise between the long range models seems like our best fit with partly cloudy (high clouds) and cool conditions either way likely.
Look for highs in the lower 60s Saturday and mid-60s Sunday while night time lows dip into the rather chilly 40s.
European Model:
It could be even cooler by mid-next week, but we'll see if that pans out or not.
But you can check out the can access the latest KATC 10 Day Forecast here.