After a stormy Halloween night into early Thursday morning, Acadiana will see the clouds clearing out, and then get to enjoy mostly sunny skies and seasonably cool fall temperatures over the next couple of days.
But the nice weather won't last through the entire weekend, as showers and perhaps a few thunderstorms may return to the area Sunday.
In the near term, expect mostly cloudy skies, breezy and cooler conditions overnight, with clouds thinning and clearing from west to east through daybreak.
Temperatures by morning will drop into the mid-upper 40s to lower 50s depending on how quickly the clouds clear out, with the coolest readings Friday morning expected to be in the most northernmost portions of Acadiana.
Expect mostly sunny skies Friday with seasonably cool temperatures topping out in the upper 60s.
Initially breezy N/NW winds will diminish Friday afternoon making it feel warmer than the temperatures if you are out in the sun.
Expect and nice and cool Friday night into Saturday morning with with lows in the upper 40s to lower 50s followed by more sunshine and milder temperatures into the mid-70 anticipated for the afternoon.
By Sunday, an upper level trough of low pressure and weakening frontal boundary will induce cloud cover and provide atmospheric lift to produce at least, scattered showers and a few thunderstorms.
Models are a little at odds with Sunday's rain chances with the GFS Model on the wet side (60-80% range) while the European Model is less enthusiastic on rain intensity and coverage…for now we'll go with a 50% chance of rain for the day.
Hopefully this won't impact the Giant Omelette in Abbeville, but we really can't "crack" any "yolks" about that!
Moving into next week, the long range models are quite unsettled with regard to their respective outlooks with a series of disturbances keeping some daily rain chances in the forecast or close to the area, and perhaps, into early the following weekend.
It appears the better prospects for scattered showers and possibly a few storms will be higher toward the mid-latter part of the week, but the forecast during this period will likely change.
See the latest Euro Model here:
Looking back: Wednesday night's/early Thursday's storm system system did deliver on its promise of wind damage and a few tornadoes.
Per the Storm Prediction Center, the tentative count of 144 wind damage reports and 11 tornadoes were indicated as of midday Thursday.
The National Weather Service storm surveys are still underway, but locally tornadic damage was primarily reported in the Lake Charles and Alexandria/Pineville areas.
The tornadoes near Lake Charles were considered EF1 tornadoes, with up to 86 to 110 mph winds, while at least 5 tornadoes in Rapides Parish ranked either EF1 or EF2, with the damage in the Alexandria area ranking as high end EF2 tornadoes with 135 mph winds.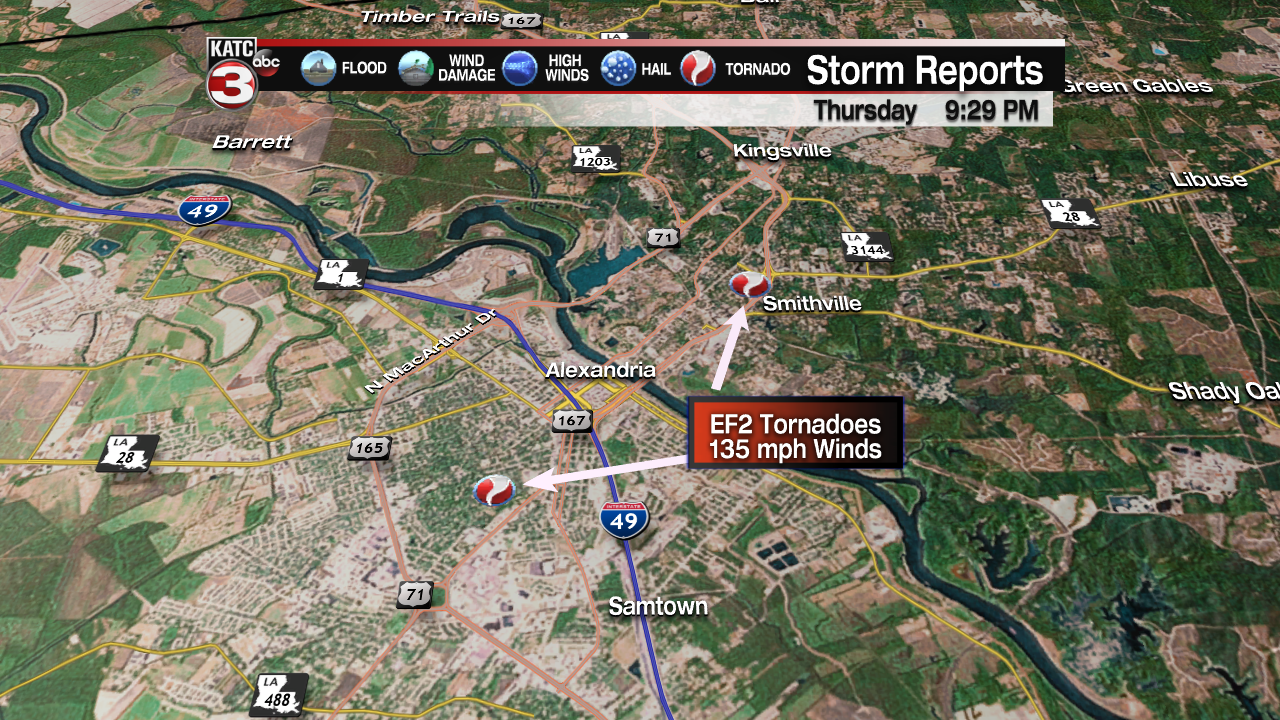 All totaled there were nine tornadoes reported in the region from Lake Charles to Alexandria north into Grand Parish,
Outside of the more major reports of damage, a few downed trees, tree limbs, and sporadic power outages were reported locally, and luckily just 1-3″ of rain fell across Acadiana.