It will be a breezy, warm and humid Halloween for Acadiana along with a few passing showers and perhaps, a thunderstorm, from the midday hours into the early evening, but the more frightful weather will arrive later into Wednesday night.
Look for mostly cloudy conditions with roughly a 40% chance of scattered showers Wednesday, with gusty south-southeasterly winds up to 20-25 mph developing into the afternoon and evening.
The risk of storms could begin to increase around 8 pm, so get your trick or treating done early just in case!
Temperatures during trick or treat times will start near 80 and drop only to the mid-70s.
A frontal system with strong wind dynamics aloft will then bring a substantial threat of severe storms and heavy rainfall to the Acadiana area roughly from midnight through daybreak Thursday.
The Storm Prediction Center (SPC) has a good part of Acadiana from Lafayette northwestward in an "enhanced" risk for severe storms Wednesday night into early Thursday, with the rest of the area in a "slight" risk category.
This is the first substantial risk of severe storms for the area since this past spring.
Scattered storms are expected to begin to get cranked-up around midnight, with a few "discrete" or "loner" cells possibly capable of rotation that could lead to a few isolated tornadoes.
Closer to 2 am through 4 am a solid line, or squall line, will likely develop along and ahead of a cool front that will be entering the area.
Storms in this zone or just ahead of it might become potential "supercells", which could result in a few isolated strong tornadoes, or damaging winds in excess of 65 mph.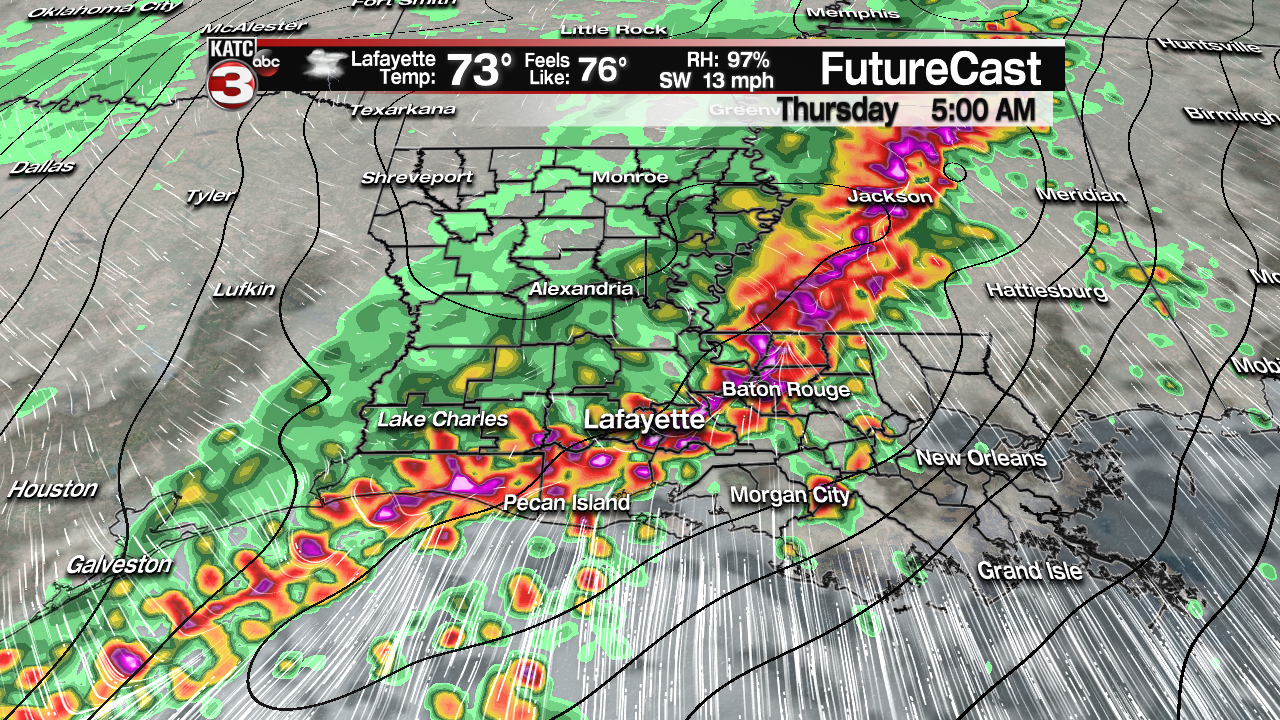 Keep your Weather Radio's and KATC WX app handy (on on for notifications) for Wednesday night, along with keeping it with KATC, katc.com, and social media for the latest.
Latest FutureCast:
And in addition to the severe weather threat, very heavy rainfall will be possible with all our models indicating up to a 2-4″ rainfall…most should see slightly less, but there could be spots that catch a little more which could leave to localized street flooding as daybreak approaches Thursday.
While widespread flooding is not expected, however with the intense rainfall rates for a few hours toward the wee morning hours of Thursday, there could be some water piling up in low lying areas that are occasionally susceptible to flooding.
Rain and storms will taper from west to east through mid-morning Thursday, with skies clearing out and the weather cooling off for Friday.
The weekend looks great with lots of sunshine Saturday and a few clouds returning Sunday ahead of our next opportunity for some showers and storms early next week.