While the calendar is saying "October" the weather will continue to say "summer" for the foreseeable future.
Rain chances should decrease to 20% Tuesday and near 20-30% Wednesday allowing for more extended periods of above normal heat.
FutureCast:
Temperatures will respond by reaching the lower 90s for highs over the next couple of days, and like Monday, heat indices will push the 98-103 degree range from roughly 11:00 am through 5:00 pm.
Temperature Forecast:
Unfortunately light winds won't help making the heat feel that much worse for October.
Occasionally higher winds gusts may occur briefly in and near any afternoon showers that develop.
FutureCast Winds:
Up and down rain chances and very warm temperatures will continue for Acadiana over the next week to 10 days, and there are still no definitive signs of a real cool front for the area over the next couple of weeks…but that should change soon…fingers crossed!
Long Range European Model (Days 3-8):
In the tropics, while the remnants of once Hurricane Rosa will deliver some heavy rains in the Southwest U.S. over the next few days, Tropical Storm Leslie is the only storm in the Atlantic Basin at this time.
Leslie has been getting better organized and expected to become a hurricane.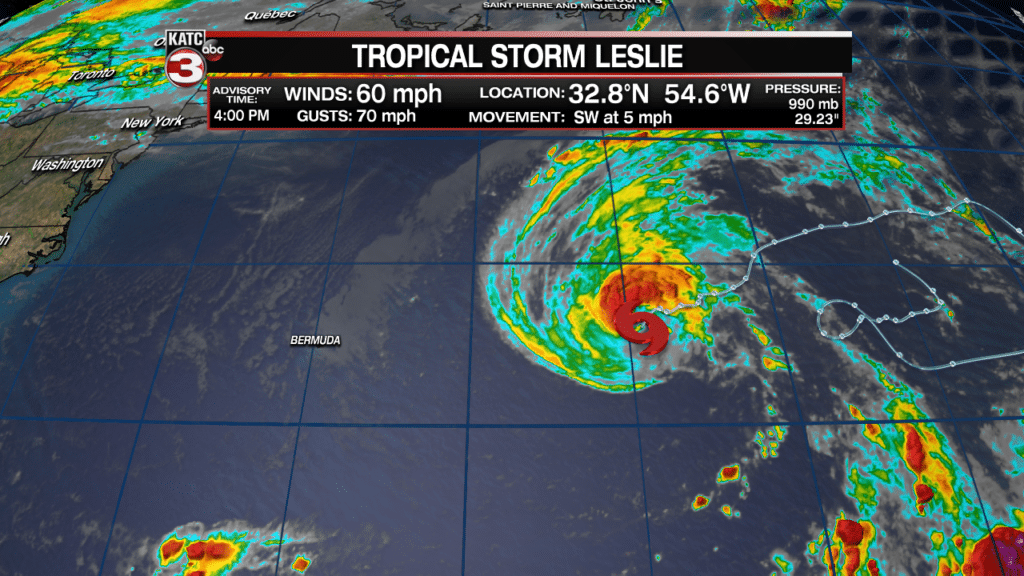 The system won't affect any land areas as it drops southward then moves back north northeastward over the next 5 days.
Interestingly enough, Leslie will continue to produce large swells reaching portions of the Caribbean, Bahamas and the U.S. East Coast.
Farther to the south in the Southwest Caribbean the remnants of Tropical Storm Kirk remain disorganized.
Longer range models do indicate that there may be some developments into the Northwest Caribbean into the second week of October…traditionally systems there this time of year move north or northeastward, but that is not a forecast.
The tropics are likely not done yet for some…