Summer will hang on this weekend, even though the first day of fall is just around the corner. Hot temperatures are expected to stick around, along with scattered showers and thunderstorms during the afternoon. Tropical moisture associated with a disturbance over the western Gulf of Mexico will help keep the area unsettled, but it appears most of the heavy rainfall associated with that tropical wave will stay over deep south Texas and northern Mexico. Expect temperatures to run in the lower 90s today, through the weekend, with heat index values as high as 105.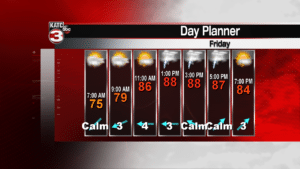 Tropical weather remains the big story today, as hurricane Florence continues to stall near the North Carolina coastline. It has weakened somewhat, but the persistent rain and wind is already causing problems. Where the winds are blowing toward the coastline, storm surge and water rises are noted. As ocean water moves in, water associated with heavy rains can't move out. Florence is expected to remain right along the coast for the remainder of the day.
Meanwhile, Isaac has been downgraded to a tropical depression. Isaac's winds are now 35 mph and some further weakening is expected. This will be a system we'll be watching through the weekend. Some models do drift the remnants of Isaac into the Gulf of Mexico next week. Remember, a weak tropical system over the Caribbean last year, eventually became Hurricane Harvey. Anything in the western Atlantic, Caribbean, or Gulf needs to be monitored this time of the year.
Farther down the road, we're still looking for a cold front. There were some hints of perhaps some drier air coming in next week, but the latest models aren't really suggesting any major pattern changes through the end of the month.