Tuesday 4PM Update: Florence strengthens and gets bigger as winds are now up to 140 mph with gusts as high as 165 mph.
Hurricane and storm surge warnings have now been issued for areas along North and South Carolina coast with tropical storm watches issued for portions of Virginia.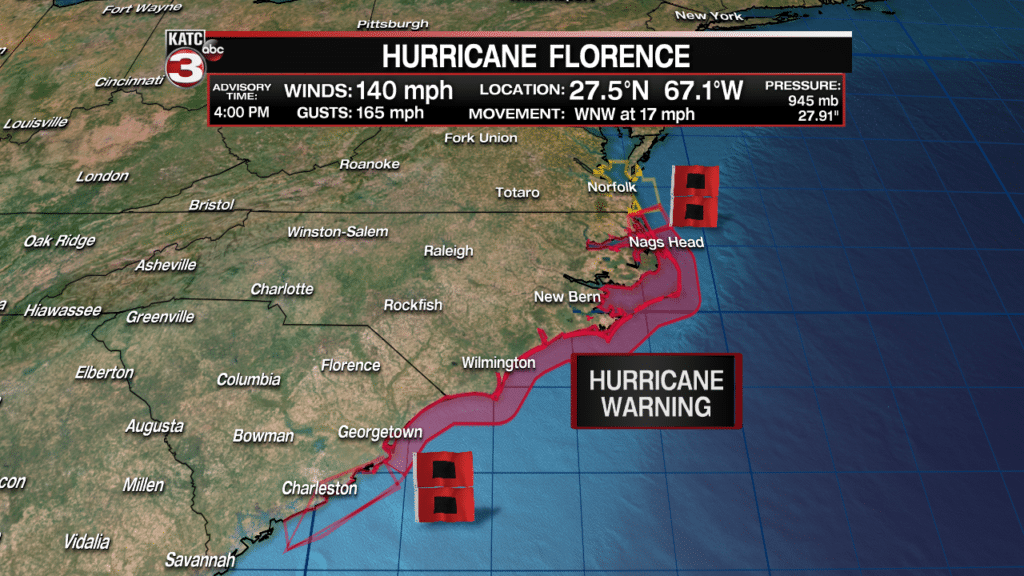 With the latest update the National Hurricane Center has not made any real changes to the track or intensity forecasts but there are still lots of uncertainties beyond 72 hours.
Tuesday 4PM NHC official trackEither way Florence is expected to bring life-threatening storm surge and rainfall for most of the eastern half of North and South Carolina.
– – – – – – – – – – – – – – – – – – – – – – – – – – – – –
With Hurricane Florence expected to make landfall within the next 48-60 hours hurricane and storm surge watches have been issued from the Virginia-North Carolina border down to Charleston, South Carolina.
Potential impacts for the Carolina coast will be 110-120 mph winds with even higher gusts possible, 6-10 foot of storm surge, and isolated tornadoes.
With the 11AM update on Tuesday Hurricane Florence remains a very powerful category 4 storm with 130 mph sustained winds and gusts up to 160 mph.
Florence is becoming better organized and should be able to maintain its strong inner core keeping it a major category 4 hurricane from now until landfall.
The one change with the latest update is forecasters think Florence might slow down some as it approaches the coast moving back the timing for landfall from Thursday evening to sometime Friday morning.
But, the latest track from the National Hurricane Center has not changed much from the previous updates as far as where the center will make landfall which is expected near Cape Fear or Wilmington, North Carolina.
After makes landfall Florence will slow down and almost stall over North Carolina causing the wind field to quickly weaken as Florence will drop down to a tropical storm by Saturday morning and a depression by Sunday.
Although the winds will die down as it moves inland heavy rains will continue leading to widespread flooding as 1 to 2 feet of rain with hammer the entire state of North and South Carolina, along with portions of Virginia.
Evacuations began Monday for many along the North Carolina coast and more are continuing today and Wednesday as people run from the potential 6-10 foot storm surge and hide from the strongest winds.