No real change in the forecast Tuesday as a stationary front will be draped over Acadiana.
Like we have seen the past couple days a few of these showers could be on the heavy side with rumbles of thunder and lightning but they will not last long enough to cause any real flooding threats.
Before the rain arrives we will have times of morning sunshine setting up warm and humid start to the day with temperatures reaching the upper 80s to lower 90s and heat indices pushing the upper 90s.
Wednesday the front will begin to dissipate and we might get some dry air to work over Acadiana dropping rain chances down to 30-40% but you do see the rain out in the Gulf so if the model is wrong that could work over the area.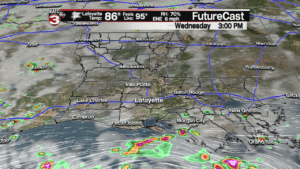 For the second half of the work week we are watching a tropical wave that will be moving out of the Caribbean Sea and into the southern Gulf.
Right now this wave should stay just to our south and head for the Texas coast but with it being so close to us it could send Acadiana some tropical moisture to keep rain chances up near 40-50% Thursday and Friday afternoon for pop-up showers and storms.
For more on this potential tropical system in the Gulf read our full discussion here: