What a fantastic start to the day as we woke up to temperatures in the upper 60s and lower 70s!!!
Temperatures will heat up into the lower 90s under mostly sunny skies this afternoon but we will still have relatively low humidity levels making it feel rather comfortable today.
Then once the sun begins to go down temperatures will quickly fall setting up a perfect evening for the start of high school football as jamborees kick off tonight throughout Acadiana.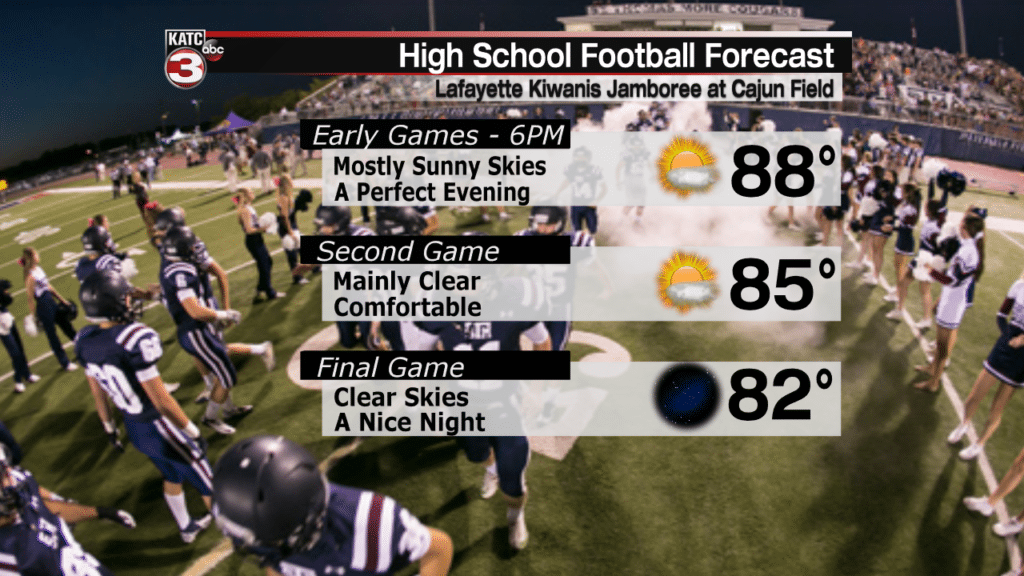 It should be another refreshing morning on Friday with lows in the upper 60s and lower 70s.
Unfortunately during the afternoon winds will begin to shift out of the ESE pushing some Gulf moisture back over the region making it feel humid again as feel like temperatures will approach the triple digits.
And with this extra moisture in the atmosphere a couple isolated showers can not be ruled out Friday afternoon, especially for our coastal parishes.
Then this weekend it looks to be back to the heat and humidity with highs in the lower 90s and heat indices topping out above the century mark both days.
With the return of the summer like weather pattern we will have the slight chance for a few pop-up showers and storms each afternoon but rain chances only look to be about 20-30%.
Going back to work next week the hot and humid conditions will continue with highs in the lower 90s, along with a 30-40% chance for scattered showers and storms each afternoon.