Susai Arul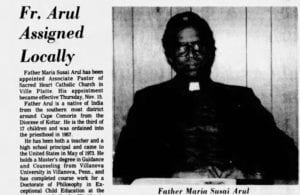 Alleged Abuse: A lawsuit settled in 2015 alleges that Arul molested an altar boy while Arul was working in Ville Platte in 1981. No criminal charges were filed.
Where is he now: Unknown
Father Susai Arul was accused of sexually abusing a 10-year-old altar boy in 1981 while Arul was serving at Sacred Heart of Jesus in Ville Platte.
The victim says he repressed his traumatic memory of the priest's abuse after it occurred.
However, he began to recover the memories in January 2011 and then filed suit against Arul and the Diocese of Lafayette. The lawsuit was settled.
The lawsuit claims that the abuse caused the victim lasting damage over the course of his life including numerous troubles with the law, which ultimately led to prison time. It also claims it caused the him to run away from home, abuse drugs and alcohol, attempt suicide and suffer from depression and other psychiatric conditions including post-traumatic stress disorder.
A "Susai Arul" was also prohibited from ministry in the Archdiocese of Mobile because of misconduct in 1989-1990, but we could not confirm if this was the same Arul who was in Ville Platte.
Timeline:
1957: Ordained
St. Petersburg, FL
1979: Sacred Heart in Ville Platte (according to newspaper)
1986: St. Catherine Church, Leonville LA
1989-1990: On duty outside the Diocese of Lafayette
(We have not compiled a complete timeline because of missing records.)