Mark Broussard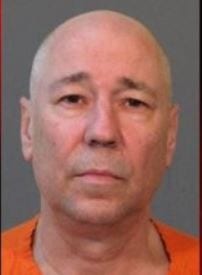 Alleged Abuse: Convicted of sexually abusing altar boys in Calcasieu Parish in the 1980's.
Where is he now: Angola Prison
In March 2012, former priest Mark Broussard was accused of sexually abusing altar boys between 1986 and 1989 and arrested at his home in Duson.
The investigation into allegations of sexual abuse began in 2011, after a letter surfaced alleging that Broussard had abused a Calcasieu Parish man when the man was a child.
The man wrote a letter to the bishop accusing Broussard of molesting him, and he testified on the first day of Broussard's trial.
Also during the trial, one victim testified that he was molested by Broussard when Broussard was serving as a priest in Eunice. The victim testified that Broussard would buy him alcohol and persuade him to have sex.
Another victim, who attended a different church, testified that Broussard also touched him inappropriately as a child; he testified that Broussard molested him at least three or four times a week for more than three years. The victim testified that he was so young and Broussard had groomed him so well that he believed the sexual acts were natural, and he did not think the abuse was unusual or wrong. He said Broussard would assure him that he was "doing the right thing."
After his trial in February 2016, Broussard was found guilty of aggravated rape, aggravated oral sexual battery and molestation of a juvenile. He was sentenced to 250 years in prison – with each of the sentences to run consecutively.
Timeline:
1981- 1991 : Dates of Misconduct at Our Lady Help of Christians in Jennings, Our Lady Queen of Heaven in Lake Charles, Saint Henry in Lake Charles (according to Lake Charles diocese)
1986: Ordained in Lake Charles
1986-1988: Our Lady Queen of Heaven, Lake Charles
1988-1992: St. Henry's Catholic Church, Lake Charles
1992-1994: St. Eugene's Catholic Church, Grand Cheniere
Chaplain, Memorial Hospital in Lake Charles
1994: Resigns from priesthood; First allegation comes in
2009: Second allegation comes in
2012: Accused and arrested, Duson
2013: Civil lawsuit filed by victims, Lake Charles
2013: Laicized (defrocked)
2016: Convicted and sentenced to two life sentences, Lake Charles
2017: Files appeal for conviction that is denied, Lake Charles
Today: Angola prison