George Curtis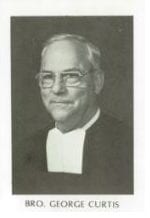 Alleged Abuse: Accused of molesting two boys repeatedly from 1975-1977 in Iberia Parish
Where he is now: Deceased
In 1991, a lawsuit was filed in Iberia Parish, accusing George Curtis of molesting two brothers repeatedly between 1975 and 1977.
Curtis was a priest at Our Lady of Perpetual Help Church and also taught at Catholic High of New Iberia, and he was part of the Lasallian District of San Francisco- New Orleans.
The suit alleges that the boys' mother had given Curtis custody of her children three to five times a week for their educational and spiritual benefit; that allegedly was Curtis' idea.
Court records reveal that the boys resisted these tutoring lessons with Curtis, but would not explain to their mother why. Curtis had allegedly told them that if they spoke to anyone about the abuse their souls would be damned.
The lawsuit was settled in 1992.
Timeline:
1970-1991: Our Lady of Perpetual Help Church and Iberia Catholic High School, New Iberia
1998: Deceased
(Timeline incomplete because of missing records)