Non-select schools are playing in quarterfinals
5A
6 Zachary at 3 Acadiana
4A
6 Leesville at 3 St. Martinville
3A
8 North Webster at 1 Iota
6 Lake Charles College Prep at 3 Kaplan
26 Madison Prep at 2 Eunice
2A
5 Welsh at 20 Dequincy
2 Amite at 23 Franklin
1A
6 Basile at 3 Kentwood
Select School are playing semifinals
Division II
3 St. Thomas More at 2 St. Charles Catholic
Division III
5 Newman at 1 Notre Dame
6 Catholic of New Iberia at 2 Country Day – Saturday at 5 p.m.
Division IV
4 Lafayette Christian at 1 Southern Lab
3 Vermilion Catholic at 2 Ascension Catholic
Game of the Week
Acadiana High School (11-1) meets Zachary (10-2) in the state quarterfinals. It's a match-up of contemporary powers in 5A. The teams combine for five of the last eight 5A championships. Last season Zachary beat Hahnville 34-14 in the dome to win the program's second 5A championship. The two last met in the 2016 quarterfinals when Zachary beat the Rams 31-24.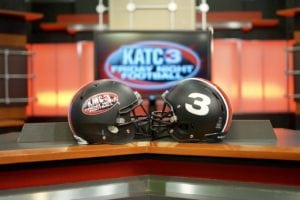 KATC is everywhere this year for Friday Night Football. Catch all the action from teams around Acadiana Fridays at 10:35 pm on KATCFriday Night Football set in the KATC studio
Follow our Sports team below:
Facebook: KATC Sports
Twitter: KATCTV3
Download the Scorestream app to keep up with the latest scores.
Share your updates using your iPhone or Android device with the FREE ScoreStream app. The app is super easy to navigate. (CLICK HERE FOR A TUTORIAL ON THE APP)