5A
3 Acadiana at 19 Denham Springs
4A
9 Bastrop at 25 Westgate
14 Belle Chasse at 3 St. Martinville
15 Breaux Bridge at 2 Warren Easton
3A
14 Crowely at 3 Kaplan
1 Iota at 17 Baker
13 Church Point at 4 Sterlington
11 Northwest at 6 Lake Charles College Prep
2 Eunice at 18 Wossman
2A
12 Mansfield at 5 Welsh
7 Kinder at 23 Franklin
1A
11 Montgomery at 6 Basile
13 Gueydan at 4 Logansport
Division II
6 E.D. White at 3 St. Thomas More
Division III
8 Episcopal at 1 Notre Dame
6 Catholic N.I. at 3 Dunham
7 Ascension Christian at 2 Country Day
Division IV
5 Opelousas Catholic at 4 Lafayette Christian
6 St. Frederick at 3 Vermilion Catholic
Game of the Week
This week's Game of the Week takes us back to LCA high school where Lafayette Christian (11-0) hosts Opelousas Catholic (8-2) in a 4-5 match-up. The Knights have yet to be tested this season, outscoring opponents 654-27, 21 of those points came in their 54-21 win over Vermilion Catholic. The Vikings come into the game having won 8-straight. OC opened the year with losses to Northwest and Vermilion Catholic, two respective teams who are also still playing in the second week of the playoffs. In the final five regular season games, the Vikings allowed just 6 points. Last week Opelousas Catholic beat Covenant Christian 35-18.
KATC is everywhere this year for Friday Night Football. Catch all the action from teams around Acadiana Fridays at 10:35 pm on KATC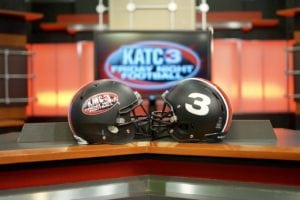 Friday Night Football set in the KATC studio
Follow our Sports team below:
Facebook: KATC Sports
Twitter: KATCTV3
Download the Scorestream app to keep up with the latest scores.
Share your updates using your iPhone or Android device with the FREE ScoreStream app. The app is super easy to navigate. (CLICK HERE FOR A TUTORIAL ON THE APP)