LSU has incurred a $100,000 fine on Monday after hundreds of fans rushed the field Saturday night in celebration of the Tigers' win over No. 2-ranked Georgia.
According to the Advocate, this was the second violation under the SEC's current policy on fans rushing the field. The last time fans rushed the field at Tiger Stadium was back in 2014 after a 10-7 win over No. 3 Ole Miss.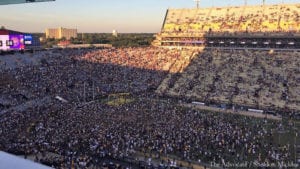 Any subsequent violations would bring a $250,000 fine to the school.
LSU beat Georgia on Saturday night with a score of 36-16.
In response to the fine, Congressman Garret Graves has started a GoFundMe account to pay the fine incurred by LSU.
The fundraiser is entitled: LSU Can Win Just Fine
On the page, Graves says, "To show our appreciation of this recognition, we're calling on all Tiger fans to spread the love by contributing $36.16 to the Tiger Athletic Foundation so all of the SEC can share in our bliss. If every Tiger fan at the game or watching on TV gives this amount, we'll be able to share similar delight with Alabama on November 3."