The officer shot in Abbeville last week will have surgery on her lung today.
A second chest tube will be added today. Once the lungs are functioning at an appropriate capacity she will be able to go home and start the long road to recovery.
The officer was shot on April 3, 2019, during a traffic stop.
The suspect is 29-year-old Nahshon Ishmael Brooks, of Abbeville. Brooks was captured last week in Lafayette Parish and transferred to the Vermilion Parish jail.
On Friday, the City of Abbeville held an emergency meeting to speak about the incident. City officials granted outside agencies the ability to help with calls in the city of Abbeville.
For more on that meeting and how law enforcement will be moving forward click here: Commission granted to outside law enforcement agencies in Abbeville.
The Lafayette Police Association has set up a fundraising page for the Abbeville officer injured in that shooting Wednesday night.
The association says that the family of the officer is aware of the fundraiser, a gofundme account.
KATC investigates looked into court records of Nahshon Brooks, read more below:
According to court records, Brooks was convicted of attempted burglary in May 2012 in Brunswick County Court in North Carolina.
In February 2016, police were looking for Brooks in connection with a shooting in Abbeville that left one person in critical condition.
Brooks was accused of attempted second-degree murder, possession of a firearm by a convicted felon and carrying a firearm in a school zone.
In that case, Brooks wasn't found until more than a year after the shooting. He was arrested in January 2017 in North Carolina and returned to Vermilion Parish to face the charges.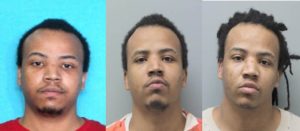 According to court records, a sanity hearing was held in July 2017 to determine if Brooks was mentally competent to stand trial. A judge ruled that he was competent to stand trial.
In May 2018, Brooks pleaded no contest to an amended charge of aggravated battery with a dangerous weapon and his other two charges were dismissed by the state.
Brooks was sentenced to serve six years in jail with hard labor with all but one year suspended at the
Department of Corrections with credit for time served. He was also sentenced to two years of supervised probation and a $500 fine.
Read more on the shooting here.
Authorities search for suspect wanted in officer-involved shooting
KATC's Abby Breidenbach was LIVE in Abbeville this morning.