"It's overwhelming. Sometimes, when I start thinking about everybody who has come to help, I start choking up," said Abbeville Police Chief William Spearman after a meeting with Mayor Mark Piazza.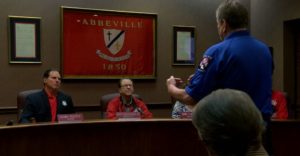 The Abbeville Police Department will be getting help from outside police agencies to patrol the city.
An emergency meeting was held Friday morning. Piazza and the council voted 'yes' to grant a commission for the officers. The decision comes two days after an Abbeville police officer was shot in the line of duty.
Since Wednesday, 20 law enforcement agencies have been in Abbeville to help with patrols. They came to find the person who allegedly committed the crime. Now, they're helping the department overcome a shortage of officers.
"This is one step to help me while we're down in numbers," Spearman said.
Youngsville Police Chief Rickey Boudreaux will be joining three of his officers on patrol Friday night. This is after working all day at his office.
"It's a sense of responsibility to help out another agency and to help protect the people of Abbeville," Boudreaux said.
The decision also comes three months after the department started hiring part-time officers to fill gaps. Spearman says low salaries are the main reason his department has a shortage of nearly 20 officers.
"Sometimes, they find a job that pays better. Hopefully, the sales tax will pass [in May 4th election], and I'll be able to get my guys more money, which they really deserve," Spearman said.
Spearman added, "Be patient. We're doing the best we can."