The Army Corps Engineers is addressing the opening of the Morganza Spillway.
On Tuesday, the Corps held a public meeting in Butte LaRose, just five days out from the opening. The last time the spillway opened, many in that community were told to evacuate because of the flood threat, but this year, the story is different.
There were no evacuation orders issues at Tuesday's meeting. The community is well aware they are facing a flood threat again, and still, some say they have no plans to evacuate this time around.
More than 100 people showed up to hear directly from the Army Corps of Engineers. Some, like Felton Collins, are concerned because they are already seeing high water.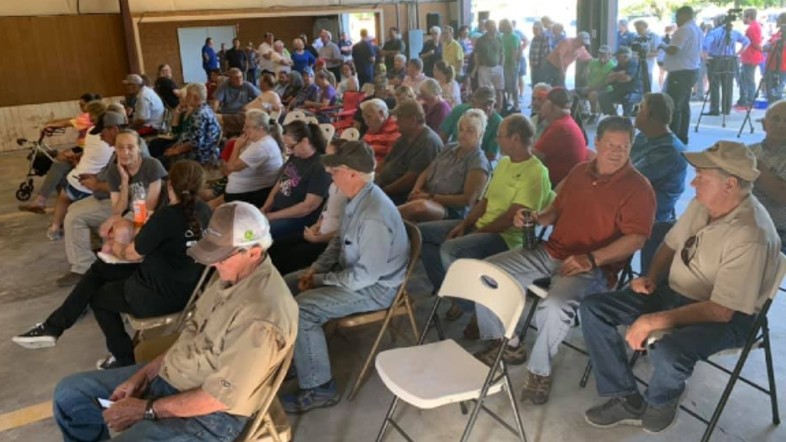 "The shrub line you see out there (in the water), is about a quarter acre. That's my property line coming across like that. So we probably have a quarter acre under water," Collins said.
For Collins, his home was built high, but worries it might not be high enough for what's coming through the Morganza. His fear?
"The water will rise faster than we hoped it would and we are not sure. That is what bothers us all. We are not sure how high that is going to raise the level," Collins said.
Members of the audience also addressed the corps about who was responsible to pay for possible damage done to their homes in the case of flooding. The Corps responded saying they were following the law set in place.
The Corps also addressed their dire warning issued for Butte LaRose in 2011, and the flood the never quite came. They warn that this year circumstances are different.
"One of the things to remember in 2011 is that the state of Louisiana was in a major drought, so what happened was we were looking at putting an amount of water into the floodway and the ground itself as so dry it was absorbed so much water. This year we are not in a drought and have a very wet basin, so you will look at more water per the same flow in 2011," a Corp spokesperson said.
Parish President Chester Cedars says that if there is a need for an evacuation, the parish hopes to give a weeks notice.
A second meeting with the U.S. Army Corps will be held on Wednesday, May 29 in Morgan City. Residents and the public are invited to attend the meeting which begins at 10:00 am in the multi-purpose building at Morgan City High School.