St. Martin Parish Sheriff's deputies arrested a Henderson man yesterday in connection with a recent rash of vehicle burglaries.
Trent Duplechin, 29, was booked with eight counts simple burglary of a vehicle, driving under suspension, possession of drugs, illegal carrying of a weapon and carrying of a firearm by a convicted felon. He also was booked on an outstanding warrant from Lafayette, on a charge of illegal possession of stolen things.
Deputies received information yesterday about a vehicle that was suspected of being used in recent vehicle burglaries in the Dixie Boat landing and George Dupuis landing areas of Henderson. The vehicle was spotted in the area of George Dupuis road, a spokeswoman said.
Deputies went to the area, and found the suspect vehicle in the driveway of a home on George Dupuis Road, the spokeswoman said. They got permission to search, and found several items that allegedly had been stolen from vehicles in the recent burglaries, she said.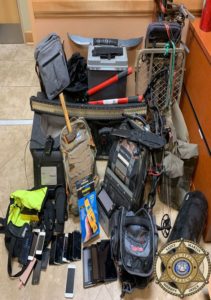 Following his arrest, he was booked into the St. Martin Parish Correctional Center on the above charges. The investigation remains ongoing.