Port Barre police are asking the public's help in locating Domeanna Spell, 15.
She's white, about 5 feet 2 inches tall, 105 pounds, long light brown hair and blue or hazel eyes.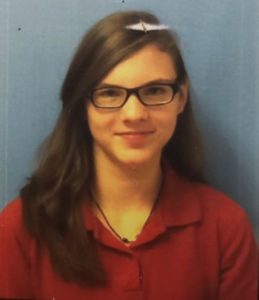 She was last seen on Thursday at about 7 a.m. after getting off the bus at Port Barre High School.
Police believe she may be a runaway and could be with Cory Shane Disotel, 47, of Port Barre and believed to be traveling in a silver 2003 Honda Civic. She may have changed her appearance to conceal her identity.
Port Barre Police, the Federal Bureau of Investigations, United States Marshals Service, Louisiana State Police and St. Landry Parish Sheriff's Office and other agencies and avenues have come together as a unified force, working together to find Domeanna.
"We are working diligently and tirelessly, leaving no stone unturned. I'm extremely thankful for the help and support we are receiving not only from these agencies but also from the public that are reaching out to us with information," Chief Deon Boudreaux said. "Family and friends of Domeanna expressed their love for her, miss her dearly and are praying for her safe return."
Police are asking the public, friends, classmates of Domeanna, to come forward with any information or tips, no matter how significant it may or may not seem.
Please contact police at 1 (800) 225-5324 anytime of the day or night.