At least one is dead and at least one wounded in a shooting in front of St. Landry Catholic Church, police say.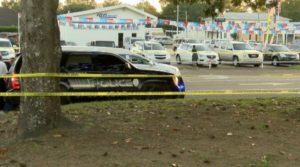 Opelousas Police Chief Donald Thompson said one person was shot to death in front of the church, and at least one other was wounded.
Mass had started in the church when two people began fighting outside the church, the chief said. A witness said the shooting started before mass, and there were still people in the parking lot; however, the chief said the first 911 call came in at 5:05 p.m. Mass began at 5 p.m.
The dead man and the wounded man exchanged gunfire; at least one of them was in a vehicle. No others were wounded, police said.
"I want people to be aware: If you think that we're going to lose control of this city because of this nonsense, I can assure you that no later than tomorrow, I'm going to sit down with the district attorney, and we're going to do what it takes to incarcerate these people. I can assure you that I will charge them with something for the sake of these people and this community," Thompson said.
Opelousas Police spokeswoman Sgt. Crystal LeBlanc echoed the chief.
"This ongoing gun violence will not be tolerated. If it means we have to work around the clock and add staff, that will be done. We just want the violence to cease," LeBlanc said.
Mayor Reggie Tatum said the sheriff's office and the city marshal have both agreed to help assist with patrols.