Spring time spruce-up projects have begun including along I-10 near Scott.
What the DOTD is calling tree trimming, some drivers call horrendous.
Broken, split, exposed trees, line Westbound I-10 outside of Scott and Duson. DOTD is trimming trees using a tie and cost-efficient method.
Frank Thibodeaux from Bob's Trees compared it to shredding paper.
Thibodeaux said, " They're mowing trees. So that cutting method is not good. Instead of using a good pair of scissors to make a sharp cut on paper, they're just shredding the paper in a shredder."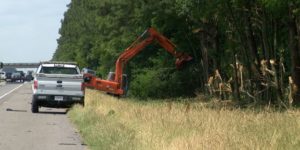 According to Bill Oliver with DOTD, the trees were getting out of control.
Oliver said, "We need to trim them back, get them off of the road and off the mower and you can maintain the viewing distance from the signs."
DOTD is planning on trimming 70 miles along the interstate. Although there are other cleaner methods, Oliver said, "With miles to go, you just can't do it with a saw, you can't do it by hand. It's not feasible. We don't have the manpower."
The result is a site many see as an eye-sore.
Oliver added, "It'll look rough now, but in a year, you won't see that."
One benefit from the horrifying process, Thibodeaux explained, "The waste from that is being recycled, it's staying on the ground."
Natural organic mulch will be left from the process. But, some worry the long term effect will be worse… resulting in loss of trees.
Thibodeaux said, "It'll grow back but it won't be the same. It will grow back real bushy, some will get infected. There are better pruning methods out there. "
Bill Oliver added they may go back to "re-trim" and clean it up.