In October 2016, acting Police Chief Reggie Thomas called a press conference to announce his "cold case" unit had solved a robbery-homicide that had happened a year earlier.
Two men – Dreyfus Bob and Jonah Paddio – had been arrested and booked with first-degree murder. Another, Shon Hamilton, was wanted for first-degree murder. The case was the shooting death of 57-year-old Rosando Gonzales, who died on Surrey Street after leaving a store.
Today, the case is closed – without any conviction on any murder charge, and one of those men free.
Court records show that the District Attorney refused to prosecute Paddio at all. An email sent to the court by the DA's office in December 2016 said that they were declining to prosecute him and all charges were dropped.
In January 2017, Hamilton and Bob were each indicted on a charge of first-degree murder.
According to court records and a release from the DA, today Hamilton and Bob both pleaded guilty and were sentenced, but not to a murder charge.
The murder indictment against Bob was amended to armed robbery, and he pleaded guilty to that and to a Bill of Information that was filed last week, charging him with negligent homicide in Gonzales' death. He was sentenced to 20 years on the armed robbery charge, and five on the negligent homicide charge. Bob was given credit for time served; he has been in prison for two years, five months, since his arrest in 2016.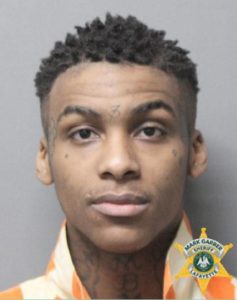 Hamilton pleaded guilty to myriad charges against him, connected to the shooting death and several incidents that occurred while he was awaiting trial: He pleaded guilty to two counts unauthorized use of a motor vehicle, battery on a corrections officer, simple criminal damage to property and inciting a riot. His first-degree murder charge also was amended to an armed robbery charge, to which he also pleaded guilty.
He was sentenced to three 10 year sentences, two one-year sentences and two two-year sentences. Some run concurrent, some consecutive; the bottom line line is 11 years in prison. He's also already served two years, five months of that, because he was given credit for the time he has served since his arrest in October 2016. So, he's got eight years and seven months left on his sentence – depending on how much "good time" he has accrued while in prison.