UPDATE: The second suspect in a Broussard shooting has been arrested.
Records at the Lafayette Parish Correctional Center indicate that Joseph Jackson was arrested Saturday by Lafayette Parish Sheriff's deputies.
He was booked with attempted first-degree murder, two counts armed robbery, one count illegal use of a weapon, no driver's license and burnt tail light. His bond is set at $525,750 but St. Landry Parish also has a hold on him, meaning he can't bond out.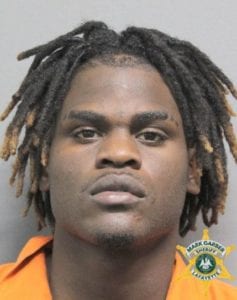 ORIGINAL STORY:
The Broussard Police Department says they have arrested a suspect wanted in connection with an armed robbery where a Duson man was shot while trying to sell drugs to someone he met on social media.
Jaylon Harrison turned himself in at the Broussard Police Department on Thursday, January 24, 2019. He was arrested and booked with two counts of attempted armed robbery and one count of attempted first-degree murder.
Joseph Jackson, the second person wanted in this investigation is still at large, according to police.
Police say during the incident, which occurred in December, the victim in the shooting 19-year-old Trevis Thomas was attempting to sell an "iPhone" to someone he met on Snapchat when he was shot by the buyer. Police later said that the transaction involved drugs and not a cellphone.
In an earlier report, Broussard Police say Thomas and his passenger picked up the potential buyer who got in the back seat of Thomas' truck while he was parked on Alley 1 & 2. While the three were inside of Thomas' parked truck on Alley 2, another male suspect allegedly approached the passenger side window with an "assault-style rifle." At the same time, police say the potential buyer pulled out a silver semi-automatic handgun and shot Thomas once in the arm and once in the leg.
The potential buyer then exited the truck and fled the scene. Thomas and his front-seat passenger left and went to the hospital.