UPDATE (8:09 p.m.) – Youngsville Chief of Police Rickey Boudreaux says upon further investigation, it was discovered it is a clandestine lab used for manufacturing controlled dangerous substances, not a meth lab.
———-
Youngsville police have obtained a search warrant, and a clean-up crew is on scene and ready to begin cleaning up a meth lab discovered this afternoon.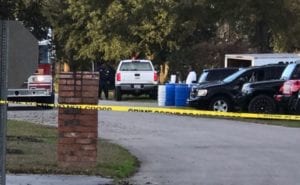 ORIGINAL STORY: Chief Rickey Boudreaux says officers were responding to a domestic call at a home on Madison Wood Drive in Youngsville when officers discovered a meth lab.
Boudreaux says that officers have not entered the house yet because they are waiting for a search warrant. Once the warrant is signed, emergency officials will enter the house to dispose of the lab.
No arrests have been made in connection with the domestic dispute; however, a person of interest is being interviewed.
Boudreaux says that a private contractor must be called in to remove the meth lab because of the government shutdown. The department has money set aside for this type of cleanup and will be absorbing that cost.
The chief asks that residents avoid the area while authorities are on the scene.
KATC's Chris Welty was on the scene and spoke with Chief Rickey Boudreaux. Watch below: