The annual travelling Christmas Tree for the VOICE support group is in Lafayette.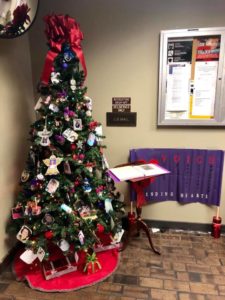 Thursday, the tree will be gathering ornaments at the Lafayette Police Department. The ornaments are to remember family members who have died because of violent acts.
Pictures and ornaments in remembrance of those who have died will be accepted at the Lafayette Police Department at 6:30 pm. All those wanting to view the tree are welcome to join the group.
The Lafayette Police Department says that Cpl. Michael Middlebrook was added to the book of fallen victims.
The traveling tree tradition according to VOICES was started in 2004 in hopes to unite those people who lost family members to violence.
"Different Police Departments were chosen to display 'our tree of many memories' because the process of prevention of crimes and justice for all begins with our law enforcement agencies. Many of these agencies have also felt the pain of loss when their officers were killed in the line of duty. It is our hope and prayer that PEACE will extend beyond our holiday season," said VOICE member Marlene Castex
For more on the VOICES group, visit their Facebook page here.