New Iberia Police have arrested a man who drove his motorcycle into the Walmart.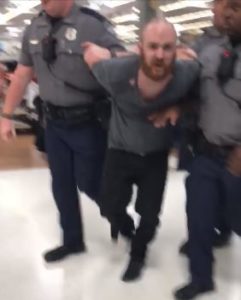 The man drove his bike about 50 feet into the store, and stopped it, a spokesman said.
A witness said the man was threatening the store, and claimed to have an explosive device on his motorcycle. The spokesman couldn't confirm that.
Witnesses tell KATC that the motorcyclist drove from the front of the store to the back of the building numerous times, nearly hitting customers as he drove through.
The person, who did not wish to be identified said that people inside the store were screaming and running in all directions. They did not know if anyone was hurt.
"No one could do anything to stop him," the caller told KATC.
Another shopper added, "The people working here were afraid. They didn't know what he was going to do. Some of them thought he might have a gun."
One witness who didn't want to be shown on camera says the sound of the motorcycle's engine startled everyone in the store.
"They thought it was a gun shot. He rode around for a good 5 minutes. The throttle made it sound 'boom boom boom'."
The man is in custody and has been taken to the hospital for a mental evaluation, the spokesman said.