A Ville Platte couple is accusing the city's police department of violating their constitutional rights.
It stems from an incident that happened Monday evening at an apartment on North Latour Street. The couple believes the warrant police used to search their home wasn't valid.
Tatiana Freeman described the encounter:
"The knob was being played with and I thought someone was breaking into our house. I went to try and wake my husband up and get protection. Before we could do that, the cops just burst through our house with the guns. We didn't even have clothes on."
Freeman was home with her husband, Brandon Jason and their three-month-old son when police burst into their apartment. They said they panicked when officers broke into their home.
"I feel as though if we would've made a sharp move my son could've been shot," Freeman said. "He was right there in my arms while they were pointing these guns at us."
Freeman says officers handcuffed Jason before searching the apartment for items he was accused of stealing. Officers found nothing.
"It was ridiculous. They went based off what people was telling them instead of physical evidence," Freeman said.
They also accuse police of not having a proper warrant. The search warrant does not have a physical address for the property or even the proper name of the apartment complex.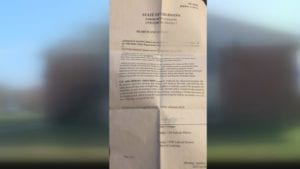 It only describes the location as the "Red bricks apartment upstair number 13."
Freeman described her frustration saying, "On the warrant, they don't even have the right apartment. They have the apartment upstairs. We live downstairs. They didn't even have his name on the warrant."
Jason added, "You supposed to show us our warrant right then and there. That's the law they didn't want to give it to us."
Police chief Neal Lartigue says officers were working off a tip from what he called a "reliable source."
He says his officers followed protocol and that Jason's name didn't have to be on the warrant, since they were searching for items inside of the home. Lartigue also stated that the apartment was the correct one. That explanation doesn't sit well with Freeman and Jason.
"What do you have to prove to understand that y'all have the wrong person," Jason said. " That y'all just made a big mistake."
He added, "They didn't serve their job right. They violated our (Fourth Amendment rights). They really violated us. I've been embarrassed in front of the cops, my child and family."