Tonight another cool front will swing through Acadiana clearing out the high clouds.
As the clouds dissipate tonight lows will fall into the mid to upper 60s.
Behind this front more dry air will slide down into Acadiana making it feel really pleasant on Thursday but with a full day of sunshine temperatures will warm up efficiently in the dry air topping out near 90.
Friday morning will be the "coolest" of the week with lows in the low to mid 60s.
During the afternoon though high pressure will scoot to the east causing winds to rotate out of the east-southeast increasing humidity levels and pushing highs into the lower 90s.
By Saturday winds pick up out of the southeast at 10-15 mph pumping lots of Gulf moisture back over the region making it feel quite hot and humid again.
With this extra moisture in the atmosphere and a weak frontal boundary draped over south Louisiana we will have about a 20-30% chance for a few pop-up showers or storms during the afternoon.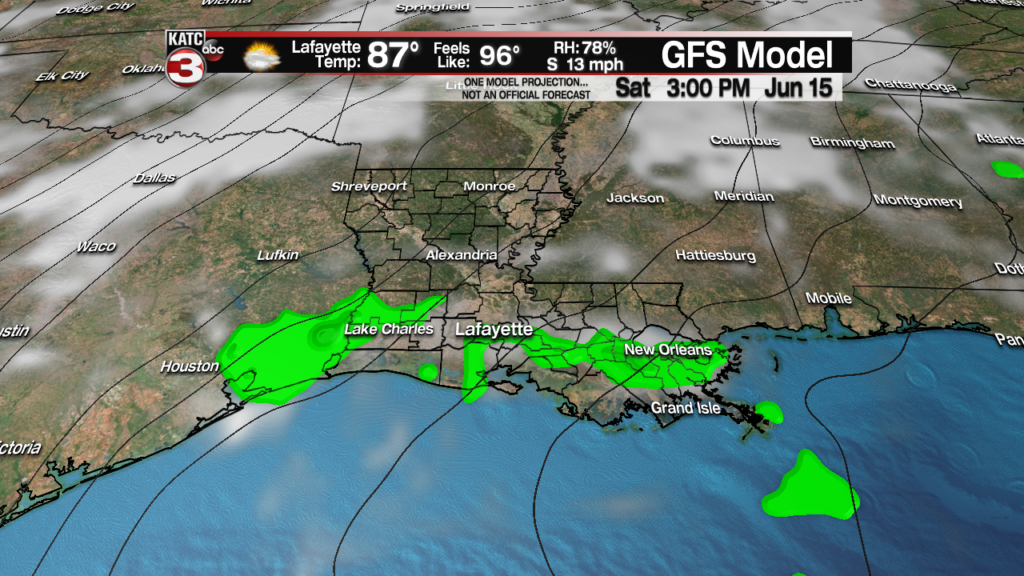 For Father's Day it will definitely feel like summer with lots of heat and humidity as heat indices climb back into the triple digits but we should be dry with just a 10-20% chance for a stray shower.
Moving into the first half of next week a stationary front will set-up across the lower Tennessee Valley and extended back into Texas.
As this front inches farther south closer to us it will provide enough instability to spark off scattered showers and storms Monday and Tuesday afternoon.
When it's not raining it will just be really gross with high heat and humidity with feel like temperatures near 103-107° with no relief at night as overnight lows will hover in the upper 70s to near 80. Yuck!