The chance of scattered showers and thunderstorms will continue for Acadiana Friday evening associated with a weakening frontal boundary that will fizzle through the region overnight.
Storms will be possible in most areas through midnight, but should decrease and move southward offshore by 2-3 am Saturday.
Latest Doppler Radar:
Drier, more stable air will move into the region this weekend with rain chances decreasing to 20% or less Saturday.
A mixture of clouds and sun is anticipated for our Saturday with temperatures topping out on the lower 90s.
The atmosphere will continue to dry Sunday, yielding mostly sunny and hot conditions, but humidity could be slightly lower.
Temperatures Sunday will likely push the mid-90s again.
Heat indices will be topping out in the upper 90s for both Saturday and Sunday.
It gets more interesting next week as a weak cool front pushes through the region Monday ushering in slightly cooler temperatures, lower humidity for the mid-week period.
See the KATC 10 Day Forecast for the latest.
A return flow from the Gulf of Mexico will initiate next Friday with full summer heat and humidity, and the slight chance of an afternoon shower and/or thunderstorm, returning next weekend.
And in the Cajun Folklore Category: Tomorrow, June 8th, is St Medard's Day (Cajun pronunciation is sam-ee-dah). Supposedly on this day, if it rains, it will rain for 40 more days, and if it's dry, expect 40 days of drought.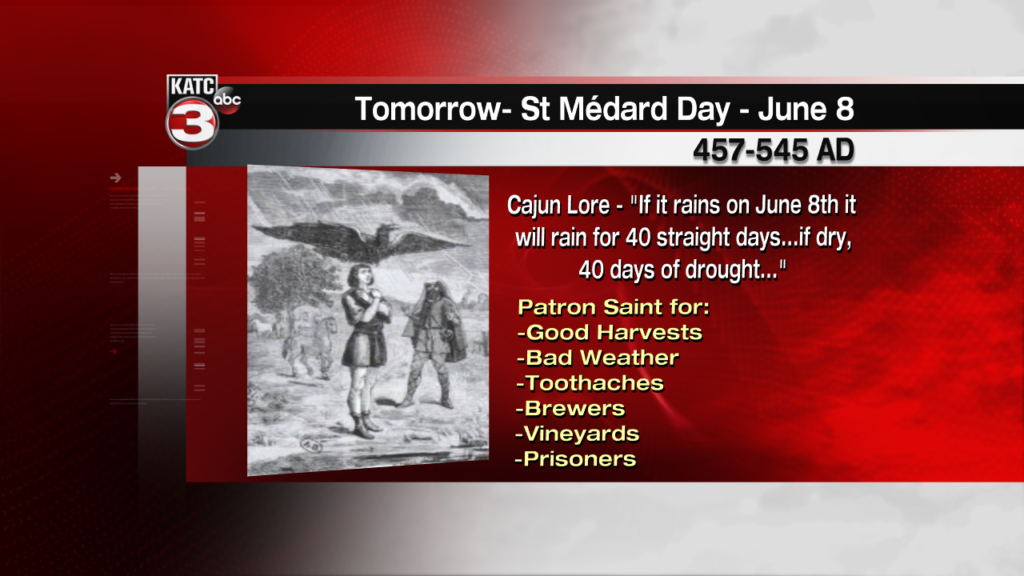 Rain chances Saturday are near 20%, but I wouldn't expect dry weather for very long…but maybe at least for a 6-7 day span!