More summertime heat and humidity the next few days as high pressure builds over the region pushing temperatures into the mid 90s with heat indices topping out between 102-106°.
Thus, it is going to be perfect weather to head to the pool to try to cool off Sunday through Tuesday.
Monday a weak cool front could try to work down into Acadiana creating the chance for a couple scattered showers during the late afternoon early afternoon.
Then by Wednesday we will be keeping an eye on some tropical moisture riding up the Texas coast to bring scattered showers to Acadiana during the afternoon.
The tropical moisture will then merge with a low pressure system swinging through the ArkLaTex to produce widespread showers and storms on Thursday.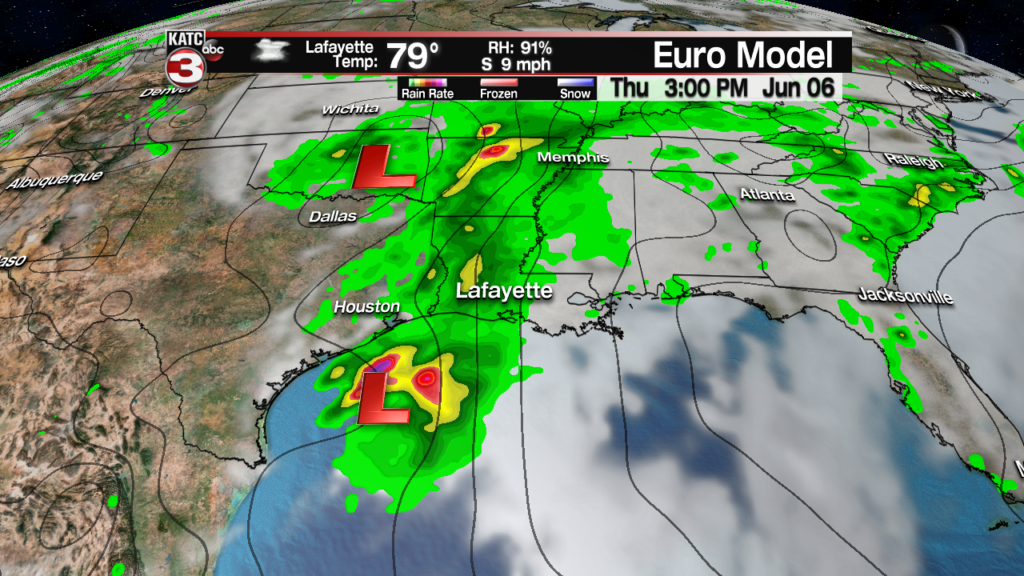 Still to early to nail down rainfall totals but the latest models are keeping the heaviest rains offshore in the Gulf.
According to the latest European models the showers move out of the area by Friday mid-morning but low rain chances could linger into next weekend.
Currently the tropical moisture is in the Bay of Campeche and with the latest update from the National Hurricane Center they are giving this potential disturbance a 60% chance of development over the next 5 days.
The good news is with high pressure over us that should keep the system to our south the next several days and push the system towards east coast of Mexico.