Acadiana can expect cloudy, breezy and warmer conditions into this weekend with the threat of scattered showers and thunderstorms late Saturday into Sunday.
Fortunately, as I alluded to yesterday, the threat of severe weather for Acadiana has been lowered to a marginal risk, and based on latest model data, rain chances are lowered for Saturday/Saturday evening but might be a little higher than previously thought for Sunday.
In the near term, look for breezy and milder conditions overnight into Friday morning with temperatures bottoming out in the upper 50s to lower 60s around midnight, but then slowly rising inot the mid-60s by daybreak.
There will be s light chance of a few isolated showers overnight, with rain chances in the 20% or less range.
Latest Predictive Radar:
Friday we'll continue to see breezy conditions an warmer temperatures with highs topping out in the low-mid 70s.
There may be a few passing showers Friday, primarily during the midday into the mid-afternoon hours, but rain chances should stay near 20%.
Even milder conditions are anticipated Friday night with lows holding in the mid-60s.
Temperatures Saturday will likely push the mid to upper 70s, with a few spots in Southern Louisiana possible pushing the 80 degree mark in spots, if some intervals of sun can get going during the midday hours.
Following the model trends hinted at yesterday, the risk of showers and storms Saturday continues to decrease with rain chances now closer to 40% late in the day and into the evening hours.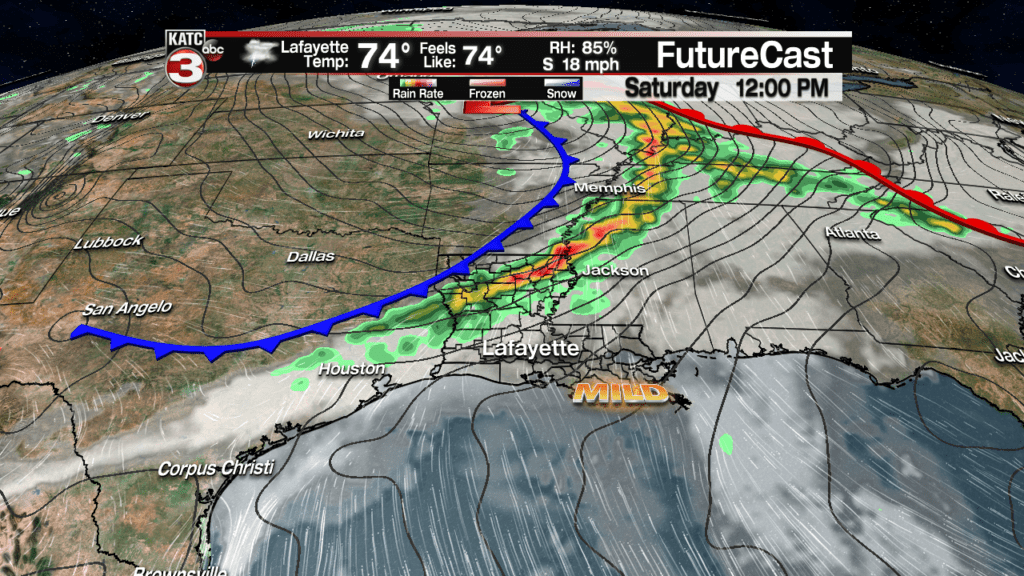 It appears the support for storms will be greatly diminished as a cool front travels southeastward into our area.
Although models are showing less storm action in our area, it doesn't necessarily mean that if a strong cluster of storms gets going to our northwest, that momentum might carry a healthy round of storms into the area by Saturday evening…but for now, we're be going with lower rain chances as compared to yesterday's forecast.
Commensurately, the Storm Prediction Center (SPC) has lowered the risk of severe storms in Acadiana down to a marginal risk, or level 1 out of 5. Damaging winds, and perhaps an isolated tornado would be the main threats should the storms keep some of their dynamics in place.
Unfortunately though, a significant severe weather outbreak will be likely for portions of Arkansas, Northern Louisiana, into Mississippi, Tennessee & Alabama where storm dynamics will be quite strong, resulting in the possibility of damaging winds and/or a tornado outbreak there.
I would expect the SPC to upgrade some areas within the "slight risk" region to an "enhanced risk", probably starting with Friday's forecast products.
Meanwhile for Acadiana, the chance of showers and thunderstorms will remain into Sunday as a cool front become nearly stationary and draped across the state through early next week.
This leaves us with the chance of scattered showers and a few storms again Sunday, and in all likelihood persisting into Monday.
Temperatures will remain on the warm side accompanied by plenty of clouds this weekend through Thursday of next week with daily highs in the mid-upper 70s.
Rain chances look to ramp upward again late Wednesday into Thursday with the possibility of a severe weather element, and perhaps a little better/stronger than the threat we may see this weekend.
Unfortunately, another significant severe weather outbreak could develop to our north with mid-next week's system.
Cooler weather will likely return Friday into the following weekend, but some clouds and perhaps slight rain chances (especially near the coast) may stick around for the weekend…we'll see.
Consult the latest 10 Day Forecast for the specifics.