For the first time, Festival International de Louisiane is releasing a handful of bands early! The second artist leak is Moonlight Benjamin (Haiti) for the 2019 Festival International de Louisiane musical lineup.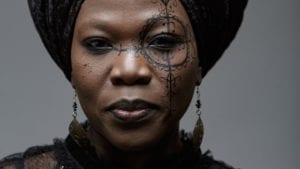 Moonlight Benjamin (Haiti)
Moonlight Benjamin is coming to us from Haiti with a new and explosive style known as voodoo trance. With a powerful and original fusion between the Caribbean voodoo melodies and rhythms, this 70's US blues rock creates a shock between Moonlight's powerful and rebellious voice and the tension of saturated guitars.
"Festival International is thrilled to have Moonlight Benjamin in Lafayette this year because her presence and sounds will just captivate our audiences." says Marketing Coordinator, Carly Viator. "Festival focuses heavily on having Francophone (French speaking) artists each year, and the music of Haiti is always embraced by our community. We are happy Moonlight will be sharing her moody voodoo blues with us and representing the Haitian culture in 2019."
Festival lovers are encouraged to explore the music of Moonlight Benjamin, and the other artists we are leaking over the next month, because this will allow them to connect with the bands in advance. Be sure to check out our previous Artist Leak, Doctor Nativo, who is coming to us from Guatemala. Learn the songs, sing along, and get excited for Festival International de Louisiane 2019!
This year's festival takes place April 24 – Apr 28, 2019 in downtown Lafayette. More artists will be announced in the coming weeks leading up to the full release of the official lineup on February 22.
For all your Festival International breaking news stick with KATC TV3 – the official local television sponsor of Festival International 2019.