Per nearly all our computer model guidance, areas of dense fog will likely form across Acadiana overnight through Friday morning with visibility in spots dropping to near zero by daybreak.
A breezy and moist southwesterly flow of weather late Thursday afternoon kept clouds in the area and a few sprinkles throughout the day…those winds are expected to diminish while clouds aloft thin all enabling the threat of fog through daybreak Friday.
Latest FutureCast Fog Forecast:
Temperatures will hover in the fog-favored (for this time of year) mid-50s through morning.
After the fog in the morning Friday, expect another mostly cloudy and mild spring-like day with highs nearing 70.
A few showers may be possible late in the day but much bigger shower and thunderstorm action is expected late Saturday night, mainly closer to daybreak Saturday.
A strong storm system, that will bring big snows from the West, the Rockies and then eastward all the way to the Northeast will usher a vigorous cold front through Acadiana Saturday morning.
A squall line of showers and embedded thunderstorms will be likely, with prime-time for storms likely from 5 am through roughly 9 am based on the latest FutureCast Model.
FutureCast:
The Storm Prediction Center (SPC) has portions of Acadiana hatched in for a marginal risk of severe storms, with a few cells possibly capable of damaging winds and perhaps, an isolated tornado.
But based on the timing of the storms (coming in near dawn), atmospheric instability will be rather questionable, but upper level wind profiles will be quite robust. The threat of severe weather may be more pronounced toward eastern Louisiana later in the morning and closer to noon.
Rainfall Saturday will not be an issue with most areas seeing between one third and once inch of rainfall maximum.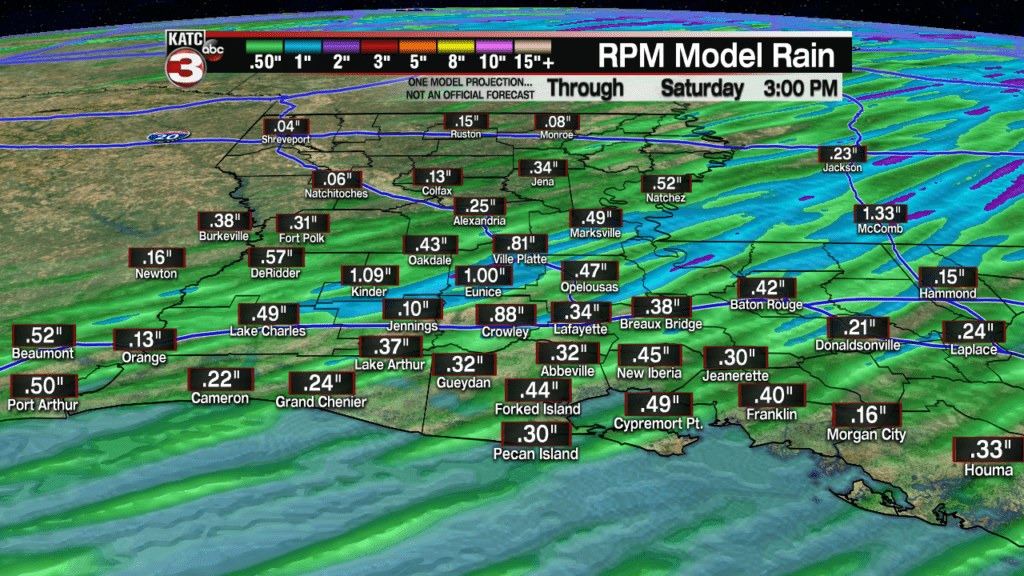 The Saturday storminess will end well before late morning, with mostly cloudy skies, breezy and much colder conditions moving in Saturday afternoon into the evening hours.
Temperatures Saturday morning will be in the mid-upper 60s, but will likely drop into the upper 40s to lower 50s late Saturday afternoon, and then into the low to mid-30s Sunday morning.
Continuing with the trend over the last few days, only light freezes, not pipe-busting hard freezes, will be possible both Sunday and Monday mornings.
The best chance of a frost will be Monday morning, but it will feel colder Sunday morning with wind chills likely in the low to mid 20s!
The bulk of the arctic air following this storm system is ear-marked for the Midwest through the Northeast where sub-zero temperatures and wind chills will be likely.
Look for sunny, windy and cold conditions Sunday with highs in the upper 40s to near 50, while wind chills stay mostly in the 30s for the bulk of the day…winds should decrease Sunday night into Monday morning engendering the frost potential Monday morning.
Expect another sunny and cool day Monday but temperatures will moderate quickly Monday night into Tuesday ahead of the next system that will bring a good chance of rain and perhaps a few storms late Tuesday, especially Tuesday night, with lingering rains and chilly misty, drizzles likely into early Wednesday.
A couple of nice and chilly days will follow Thursday and Friday with night-time lows again getting close to the "frost-zone" later next week.
Latest European Model:.
Consult the KATC 10 Day Forecast for the latest.