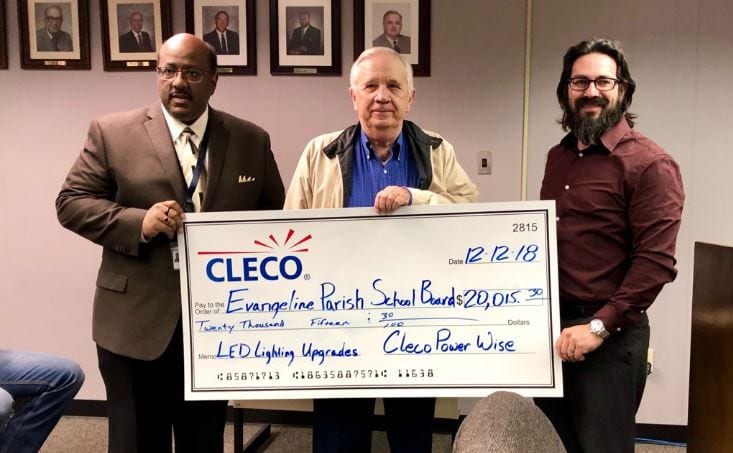 Cleco Power Wise, the utility's energy efficiency program, awarded a check to Evangeline School Board in the amount of $20,015.30 for energy saving upgrades completed at two parish schools.
Bayou Chicot Elementary received lighting upgrades to LED bulbs throughout the school's interior. The school also included lighting sensing controls to the classrooms that allow lights to automatically turn off when not occupied.
Pine Prairie High School completed the first phase of a multi-phase lighting upgrade to LED bulbs. The Phase 1 conversion included the gymnasium and auditorium and was completed in time for spring sports and winter events. The second phase will be completed in 2019, which will include lighting upgrades to the remainder of the campus' interior lighting.
"Cleco Power Wise and the Evangeline School Board have partnered to help these two schools save enough electricity to power approximately 14 homes for one year using an average amount of electricity," said Hammad Chaudhry, Cleco energy efficiency program manager. "Our company has been a part of Evangeline Parish for many years, and our employees have children at these schools. It is gratifying to play a role in helping our local education system."
Cleco's Power Wise program also offers a program to residential customers. By providing programs that weatherize homes, install ceiling insulation and provide rebates for smart thermostats, as well as pool pumps and HVAC units, Cleco is providing solutions for homeowners to reduce their energy use.
For more information on Cleco's Power Wise program go to www.cleco.com/energyefficiency.