A nebulous cool front will traverse from the northwest to the southeast across Acadiana Saturday engendering clouds and the chance of scattered showers.
The front will be rather nebulous because it won't exactly be marked by a drastic wind shift line nor shower activity specifically at the front.
In fact, there could be showers proceeding, accompanying and following the frontal system, but any activity should be be scattered, short-lived and shouldn't constitute washing out any outdoor events.
Although Friday's FutureCast Model runs were not indicating much if any shower activity, it's most prudent to go with at least a 40-50% chance of scattered activity.
A brief thunderstorm can't be ruled out either, but any storms will be isolated in nature.
Temperatures Saturday will top out by midday in the upper 70s to lower 80s but should begin to cool during the afternoon as northerly winds begin to increase.
For short-term rain situations, you can monitor the latest model and radar trends with KATC's Predictive Radar here:
Breezy north winds will kick in Saturday afternoon into the evening hours with skies clearing Sunday.
Latest Wind Forecast:
Sunday will become partly to mostly sunny (with some lingering high clouds) with cooler temperatures topping out in the upper 60s to lower 70s…a very nice day!
Latest FutureCast:
The weather pattern looks rather unsettled moving into next week with clouds on the increase Monday.
There will be the chance of scattered showers Tuesday with a better chance of showers and storms developing Wednesday, and especially Wednesday night into early Thursday, per the European model.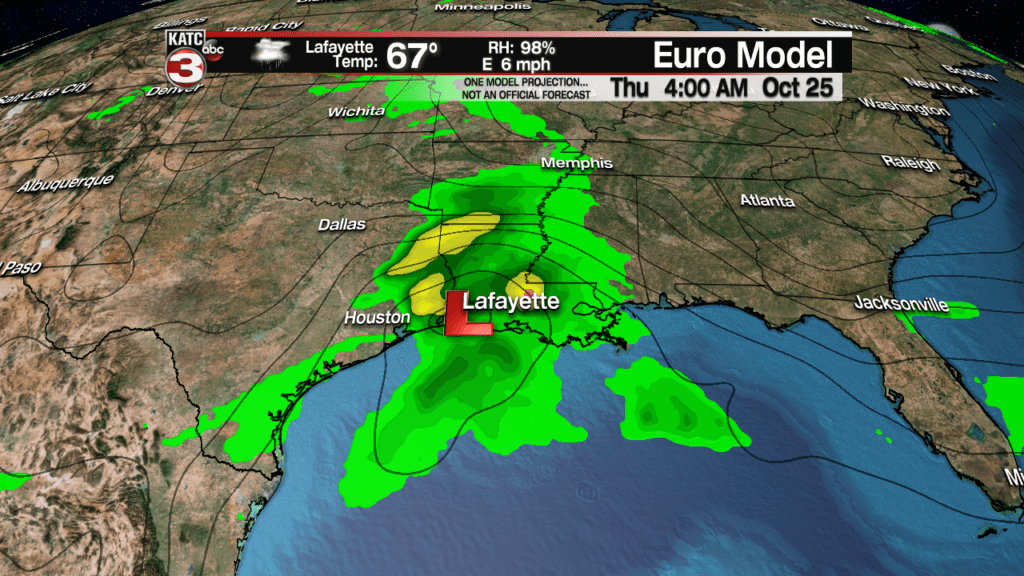 While severe weather and heavy rainfall are not expected, they might be very close by in the Gulf of Mexico where most of the action will be next week…so there could be future changes to the forecast regarding rainfall and storminess.
For now expect at least an inc or two of rain between Wednesday and Thursday…stay tuned for changes.
And while much of next week looks unsettled, the following weekend looks rather nice per KATC's 10 Day Forecast.
Latest European Model including GFS Model rainfall Estimates: