The Scott Mardi Gras Parade rolled today at 1 p.m.
The streets were closed at noon, Scott Police say.
Here's a map of the route, as well as some reminders from Scott Police about being a good Mardi Gras Citizen:
The KATC TV3 Float Finders were there, they posted video and photos on our Float Finder Facebook page here.
Check out our slideshow of all the photos from the parade, here.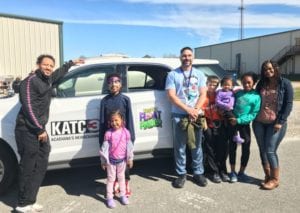 Parade-goer Josh Boulanger said it's one of his favorite parades.
"There are a lot of people, it's a beautiful day, and the city of Scott lives for this kind of thing," Boulanger said. "The people make it all worthwhile. It's communal and you can walk up and down the street, and you're going to know somebody at all points.
If you want to see what other Mardi Gras festivities are coming up, check out our story here.