At 14 weeks Falyn Granger and Brian Zorn were told that their baby would not survive, and they should terminate the pregnancy.
The couple said that was something they could not do and started to make plans for the birth.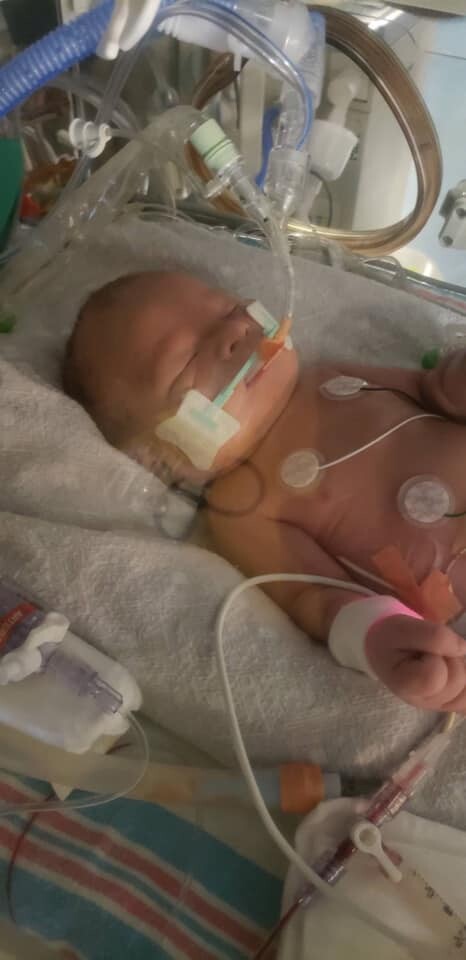 When Falyn went into labor people were called in to help the family through the delivery and ultimate death of their son.
"They told me he had multi organ failure, they told me that the pregnancy was terminal, fatal," Falyn said. "They told me if I didn't abort him that he would come out and die, gasp for air and pass way, or die inside of me. I took those chances."
Brayden Zorn was born on August 30, 2019.
Falyn said it was the happiest and most scared she had ever been Brayden started to cry.
Despite the miracle, Little Brayden still has a long road ahead.
He was diagnosed with Multi-cystic Kidney Dysplasia, stage five renal failure at two months old.
Now, three and half years later, Brayden is living his best life--the Brayden you see today is not what anyone expected.
"He was trached at two months and they told us he would be trachea dependent until he was 8 years old," Falyn said. "At a year old he was put on a ventilator and was ventilator dependent, as well as being trachea dependent for another year and a half. He had failure to thrive, was developmentally delayed. They said there was a chance he wouldn't talk and walk. He is talking, walking, and doing all of those good things," Falyn said.
"When you have renal failure, you should, especially renal five renal failure because that's ending stages and his body is only functioning at five percent, the body is declining, and he should be very sickly. He should look sick, act sick...they said he would stop eating at some point, he would be bed bound, on dialysis. We haven't reached any of those points yet."
But Brayden's dad Brian said they are getting close. Bloodwork shows that the toddler's kidney is declining by the day.
"He has multiple organs giving him problems and if we don't get the kidney in now then there is a chance, we won't get it in," Brian said. "Once any other organ acts up, he will come off the list because it's not a viable transplant."
A glimmer of hope for the family.
A friend tested positive as a match for the three-year-old. She agreed to give one of her kidneys so Brayden could have a chance at a longer life.
"We got lucky, a really good friend of ours was a match and here we are," Brian said.
"When they said she was a perfect match and it was a go, we were ecstatic! Yes, me and Dad do have our different thoughts on whether or not he should have the transplant...before he gets to a point where he shoes the signs of needing dialysis and is showing signs of not eating and being very sick, we need to take this time to, while he's healthy, give it a shot and hope for the best," Falyn said.
While the fear of, "Rejection," Falyn said.
"Or something bad happening during surgery," Brian echoed.
Weigh heavily on the family's mind, Brayden is heading to New Orleans on May 10th for surgery.
With a kidney secured there is another hurdle the family will have to face, how they are going to pay for it all.
Yes, Brayden does get some assistance, but it does not cover all of the costs from doctor visits to another transplant one day, he will need one in about fifteen years, to medications that he will now have to take for the rest of his life.
"He has hope and he needs hope and Mom and Dad could use the help," Sarah Zorn, Brayden's aunt, said.
Brayden Zorn Fundraiser
Sarah got in touch with the Children's Organ Transplant Association to help fundraise for Brayden.
Sarah said, by getting COTA involved they are able to reach a larger number of people and give those donating peace of mind that their money is going to, because they are being told.
"The money that you raised is what is allotted to you," Sarah explained. "If you have more than $1500 in bills and not more in your COTA fund, it's only what you raised. Let's say you raise $50,000 and for surgery we only use $28,000, when he is 20 and needs a new kidney...he has his own job and house note he will be able to pull from that because it follows him his whole life."
From a baby that was not supposed to make it to a toddler overcoming every obstacle that is thrown his way, Brayden shows no signs of giving up not matter how tough the journey may be in the future.
There will be a crawfish boil and yard sale at 716 Rue Du Belier on Saturday, April 29th starting at 8am until.
All donations will go to Brayden's continued treatment.
www.COTAforTeamBrayden.com